Aug. 17
Yesterday I purchased a second Tama-Go. I hatched it last night. Currently he's a Mattaritchi.
Today I introduced them to each other.
I've seen them play two different connection games: a hamburger-eating contest, and something that I'm going to call skateboarding.
The hamburger-eating contest is fairly plain. Your Tama-Go character appears at their dining room table, eating a hamburger, then another, and then another. If your character can finish all three, they win, but if they can't then they lose. Note: these hamburgers don't fill any Hungry hearts.
The skateboarding contest is a bit... cartoonish.
Your character starts out standing on their skateboard.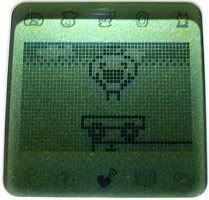 Soon they're moving at a fair clip, but this doesn't seem to be a race. It's a how-close-to-the-edge-can-you-stop contest.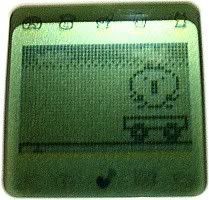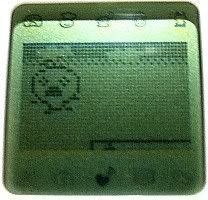 Sometimes things don't work out so well. When the skateboard shoots over the edge, it falls down right away. Memetchi hung in the air for a second before the gravity of the situation occurred to her.
In both cases, the winner is rewarded with a random sum of Gotchi Points. I've seen prizes of 200 p, 500 p, 1000 p, and 2000 p. The winner also gets one of her/his Happy hearts filled.
Instead of playing games, you can have one Tama-Go character simply visit the other.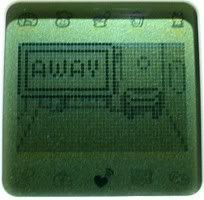 One character will leave their home, and an AWAY sign will appear on their screen. A short while later, s/he will appear in the other character's home.
They don't stay there for long. Both leave to go to one of several different places, such as the park, or the beach. (I'm guessing that the beach is a seasonal location. I can't imagine they would go there in the middle of winter.)