I was very fortunate to stumble across (and subsequently purchase) a Devilgotchi from eBay today. I've also managed to obtain a sealed Yasashi, TamaOtch and a green Santaclautchi in the same weekend (yes, I've been saving for this opportunity for quite some time).
Here's a picture of the Devilgotchi: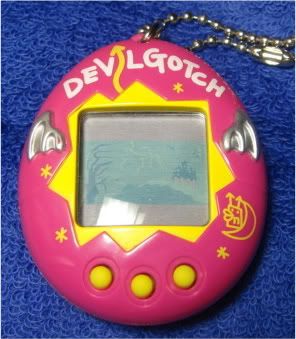 I rather like the pink one, it's certainly the most interesting colour after the white/purple one. Fortunately it's (obviously) not sealed up, so I don't have to endure the guilt of unsealing it to play it. Suffice to say I'm really rather stoked at this moment.
Do we have any other Devilgotchi keepers among us? What are your thoughts on the Devilgotchi? How does it rank in your list of favourite ancestor Tamagotchis? Discuss!