Hello and welcome to my first virtual pet log! I've been meaning to start this up for ages and decided that now is a good time as any since I'm on winter vacation at the moment. I do plan on running more virtual pets as I move along in my log. I'm especially eager to start up my two TMGOs, which I've had sealed for a few months now.
That being said, here's a fairly recent picture of my virtual pet family: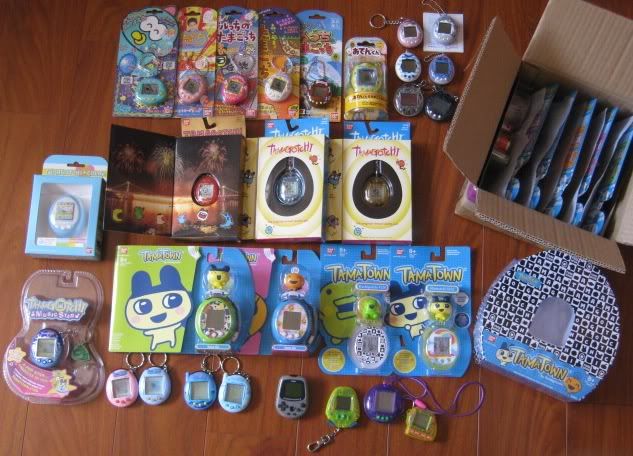 I plan on updating the picture in the near future, because it doesn't include the second Music Star, another P1, the UraTama, King of Games Home Deka Tamagotchi, and the new TMGO figurines that I've received since taking this picture. I've also got a few other items on the way but more about those later. Here's a little bit of info about the Tamagotchis I happen to be running:
I've been running my blue TMGC+C since I first got it in July 2010. It's currently on the 27th generation. The character is a 12-year-old Otokitchi and she's sleeping at the moment. When she wakes up, I'm going to take her to the matchmaker.
I re-hatched my Music Star, which recently ran away on me. This is particularly frustrating, as I had accumulated a lot of money on it. It's not my favorite version but I do like the fact that it revolves around music (I myself have been playing the violin for 10 years and counting). The character is a boy whom I have not named yet. I'm going to wait until the morning so that I can start afresh along with the new baby I will get on my TMGC+C after my Otokitchi visits the matchmaker.
I can't log about my King of Games Deka, of course, but I just thought I'd mention anyway that I'm running it, especially since I recently purchased my first UraTama and so I will be connecting the two, should I decide to run my UraTama. I'm really fond of the UraTama design I have, mostly because it's blue. I do go out of my way to collect as many virtual pets with blue in the shell design as I can, as it is my favorite color.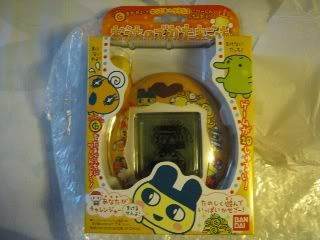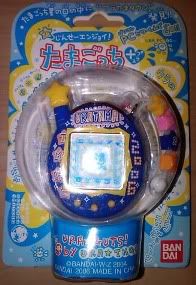 Anyway, this is just going to be my humble little corner of TamaTalk where I can log about my virtual pets but if anyone out there sees something in my pictures that they'd like me to log, please feel free to make a request and I will do my best, schedule permitting (I do expect to get busy as my winter vacation comes to an end so please bear with me). Also, I've had a Blogagotchi for a few years now and am interested in keeping that up-to-date as much as possible (see my signature). It's probably going to be a lot like what I put in my log on here, except less stats-oriented and maybe you'll get a chance to learn more about me along the way. My Blogagotchi entries will always have something to do with virtual pets though…I'm hoping it won't turn into a personal journal (that's what my Blogspot log is for). Advice, questions, constructive criticism, and any other comments are most welcome.
Please do so by sending me a PM or leaving me a profile comment, as entries in logs made by members other than the log author aren't allowed
(see specific log guidelines
HERE
). Thanks for reading!