First off, I'd like to give a big shout-out to Orandatchi for getting the word out about the elusive wave 2 figurines. You helped lead me to them as well. You're awesome!
October 23, 2011 (continued)
Tamagotchi iD L
After putting in new batteries, I just started where I was before I paused. Here's the picture of Hisao the Bokuhoshitchi after I restarted my iD L. I was experimenting a bit with the home remodeling.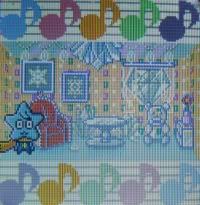 According to the stats page, I've got a 1-year-old so he should be evolving into an adult tomorrow. I'm not aiming for a particular character.
TMGC+C
Since my +C character ran away on me, I started anew. The egg hatched and out came a baby girl! I named her Akiko ("autumn child").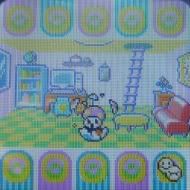 As usual with 1st generation +C babies, they aren't demanding at all; no poop, no hunger or happiness hearts emptying, or anything. They do get sick though, so I took care of that. Akiko evolved into Sakuramotchi. Here she is out in the garden before heading off to bed.
Thank you so much for being patient with me as I continue to balance work and play.
More adventures to come very soon!