August 3, 2011
Tamagotchi iD L
After some breakfast, Eri made sure to use the potty and spruce herself up before visiting the matchmaker.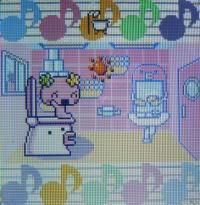 Eri fell in love with Kuchipatchi and they were married after courting for a little while.
She came home with an egg and out hatched a baby girl! I named her Mieko ("beautiful blessing child"). Mieko evolved into the toddler Paletchi.
TMGC+C
Kokoro evolved into Chamametchi today but I didn't get a chance to snap a picture of her. More updates on her later.
Not sure when I'm going to start up my iD again. Hopefully soon. The semester is wrapping up and I'm busy with clinicals and exams but my time should free up soon. Can't wait to run my Oceangotch again and other fun pets!
Thanks for reading!