December 19, 2011 (continued)
Morino
So my little guy, Flik, was still a Babymotchi at the beginning of the day. According to Pixelmood, Babymotchi is very small and "
lives anywhere in the ground so long as it's not under a willow tree. He eats mainly leaves, and other things with similar nutrients. It's rumored that the swaying and rustling of the willow leaves and branches makes him think of ghosts, and scares him, but no one knows if this is true
."
I rediscovered today that Morinos don't make messes as often as regular vintage Tamagotchis do. Flik only pooped a couple of times today.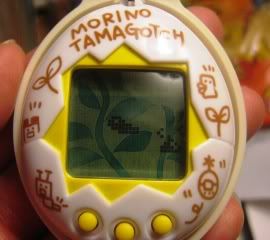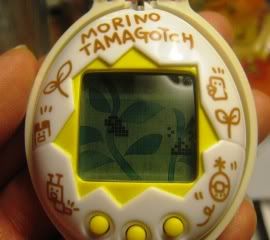 The predator came by as well and I was able to scare him away both of the times he came around.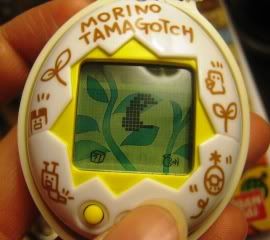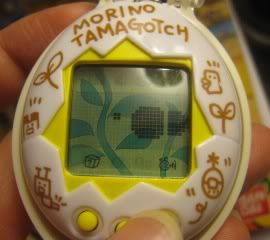 Calling for help and the predator ALMOST stepping on Flik
The other exciting thing that happened today is that Flik evolved into the "teen" Imotchi, about 24 hours after hatching. I didn't catch a transition picture but here are pictures of Imotchi inching around.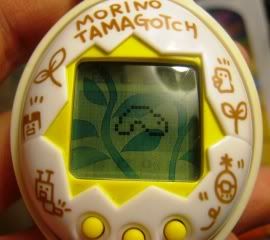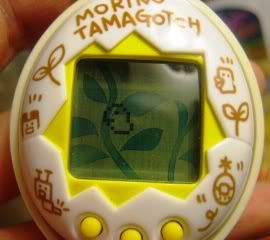 According to Pixelmood again, "
Imotchi ("Potato bug/Potato grub") is about the size of an Earth caterpillar or grub. Lives in cabbage fields. He loves to eat cabbage rinds (or whatever you call that hard part in the middle). His dream is to someday eat a piece of cabbage with a lot of mayonnaise on it
."
The transformation wore him out so much that he fell asleep shortly afterward at 8:00 pm.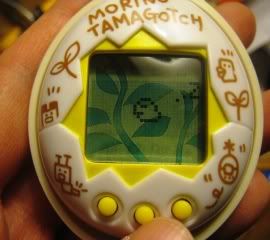 Phew! I think I went a little overboard with taking pictures today.
I can't help it with two of my Tamagotchis going to the matchmaker and the other being such an interesting vintage Tamagotchi to me. Thanks so much for reading!