February 23-24, 2011
TMGC+C
I checked the weather just before Mai went to sleep because I wanted to see what the night sky looked like and to my surprise, it was a clear, starry night out! I proceeded to earn the happy item involving the shooting star by using the telescope. It took me 8 tries (this is actually good; I've had to do more tries
). Hooray! Wow, I haven't seen a clear dark sky since maybe November (since it's typhoon season September-October and I think it started snowing around the beginning of December).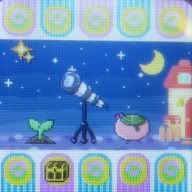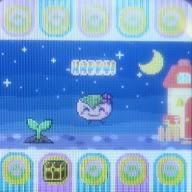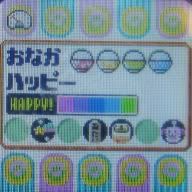 When Mai woke up, I ventured outside with her to see what the weather was like (our tree sprouted up a bit!) and we were met with a steady downpour of rain. Slowly getting there! I decided to take her to the temple to get her fortune. Mai received a "great blessing" (red)!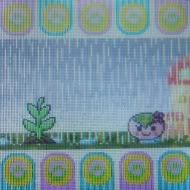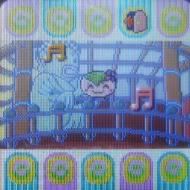 Osutchi and Mesutchi
After all that time spent awake, and some time spent asleep (I altered the time so that they could sleep a few winks and then changed it to 8:59 AM so that they could "wake up" naturally), I again selected the mating icon on both. They're both ready to get married, since they were both doing the dance, with the little tune in the background.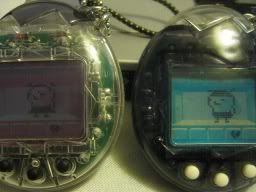 So when they both get excited like this, while the dance is happening, one is supposed to remove the tops of each Tamagotchi, revealing the jagged, interlocking edges (looks kind of like a cracked eggshell), and press them together fully (not too much pressure is needed). One then presses the B button on Osutchi (the male) and the dancing stops momentarily and then "OK" shows up on both screens, signaling that the connection was successful. To continue, the B button is pressed again on Osutchi and they both proceed to do this very coordinated, somewhat synchronized dance. I wish I could describe how cool it is through my words but I think I'd better show you in a video.
>>>CLICK HERE<<<
I decided to wait to do this because I will be seeing my boyfriend tomorrow after all my exams and 10 hours of class >.< and I've been meaning to show him this interesting process. Can't wait!
So my friend finally got back to me about the iD and gave me more information about the one she's selling. She has one in pristine condition, including the box, instructions, everything. She has the pink one though. Of ALL colors available, she has the pink one!
Oh well. I don't hate the color by any means but as I mentioned in my first post, I try to avoid it as much as I can. She's offering $60 for it. I was hoping for something more along the lines of $50-55 but I suppose it's fair considering she purchased hers for around $80 (and they're anywhere from $80-100 on Ebay) and I purchased my TMGC+C from her, actually, for $48 new-in-box, so the $60 would make sense because it's typically priced at least $15 higher than the +C. Enough with the numbers and my complaining, I'm getting an iD!
As always, I'm later than most everyone else in purchasing some of the newer versions.
Now I have to contact some of my more tech-savvy friends and see if anyone has one of the compatible phones or a PSP that I can borrow. I want to avoid buying one online as much as I can. I have heard that the iD is pretty fun even without all the custom stuff though and I am a pretty simple person (I'm still in love with my +C). Overall, I'm really looking forward to this! By the way, what is up with Ebay prices lately? I don't remember +Cs being $65 (or more) about a year ago (unless I'm missing something here). Oceans too! Devils showing up for over $300?? O.O
Well, I'm playing the catch-up game again. Be back in a bit with the rest of my updates.