February 18, 2011
TMGC+C
Nothing too exciting happened with Takeshi on the 18th, except that he evolved into Kikitchi. Nothing against Young Mametchi (the "good care" teen), but Kikitchi is so adorable. I don't really know why he would be considered the "bad care" teen but someone's gotta be, I suppose. The weather is clearing up a bit. It hasn't been snowing for the past few days but it's either been raining or very cloudy, so no happy items (other than the usual three that are not weather-dependent: involving the tea, popsicle stick and hapihapi), which is fine. Sometimes a little delayed gratification is good. It's going to be nice seeing the blue sky again soon. Again, I love this little feature on the +C, how the weather on the Tamagotchi itself matches current weather conditions in Japan. I love the attention to detail with the different shades of gray that color the sky.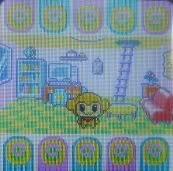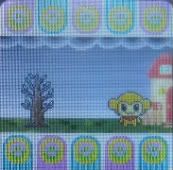 Osutchi and Mesutchi
I paused these two on the 18th. One word of explanation: Friday (if you're still curious about what I'm talking about, feel free to check out my other Friday updates, especially the one involving Midori ♥).
Also, I had a huge exam this day (ended up getting an A on it
) so my mind was elsewhere. Had to prioritize!
That's all for now. I may be back later for today's (February 19th) update but if not, just know that I will be at least taking pictures along the way and will come back to log as soon as I can. In other related news, I'm thinking about getting an iD in the near future (gosh, I have spent so much on Tamagotchis in the past couple of months XD). As always, thanks so much for reading!