March 9-12, 2014
iD
I had my iD paused on the 9th and 10th because of work.  Of course, as soon as I un-paused it on the 11th, the batteries ran out.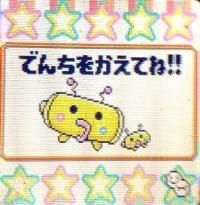 When I put batteries back in, it downloaded to the time Chuuchutchi evolved into an Uwasatchi on the 7th.  So she got held back a little bit.  No new pictures today, the 12th.  I will try for Ta Ma To Mo items tomorrow. 
Devilgotch
I still haven't restarted this guy yet.  I really want to see it through but it took so long to get to the adult stage, and to have the batteries run out...I don't know, especially with my work schedule, having to pause in between and all, it was a little off-putting for that to happen.  We'll see.  I'll probably restart tomorrow. 
Angel App
I restarted this one today though, just because I'd like to keep unlocking wallpapers, shells, etc, and experience new characters.  Also, evolution happens quicker, which is a nice change of pace. Same old thing, US space ship, Obaketchi 2, and then Maruten.  I think I'll try for the healthy teen character and then from there, keep Angel Power on the low side to get a character other than Kuriten.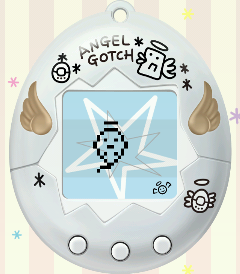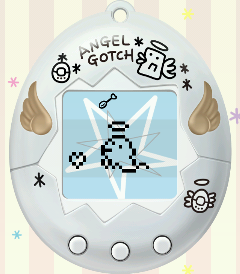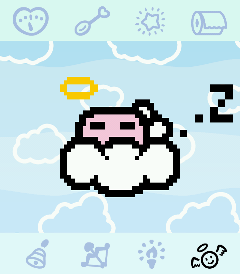 Stay tuned!