Hey, everyone! Well, it's been nearly a couple of weeks since my last update. Apologies for the delay. I'm a little over a week into my new job as an RN, and I just came back from a short trip with my boyfriend to celebrate our 6th anniversary as a couple, so I have not been on the computer much lately. I have the day off tomorrow so I'd like to take a little time to play catch-up before I get too far behind. Plus, I received a whole batch of things in the mail recently (came home tonight to see that the rest of my Tamagotchis I've been waiting on have arrived, to my pleasant surprise), so I'd like to show those off as soon as I can.
Onward with the update!
January 21, 2013
15th Anniversary iD L
Worked on Kuro's happy items today, which include the Knight Helmet from Tama Mori, Katsu Curry from the Restaurant, and the Metal Guitar from Tama Depa.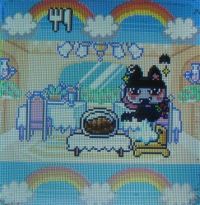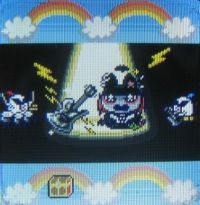 Later on in the day, he received his last happy symbol.
I took him to the matchmaker, where he and Meloditchi were married.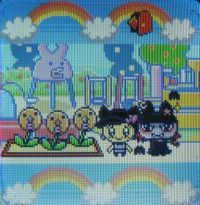 They had a baby boy, who evolved into Ahirukutchi.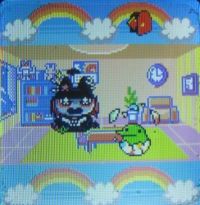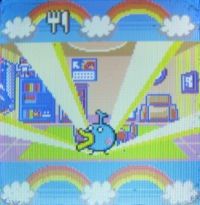 Osutchi and Mesutchi
I got a little lazy with Aragorn and Arwen and so they both ended up transforming into Debutchi, the "chubby" character you get if weight goes up to 99.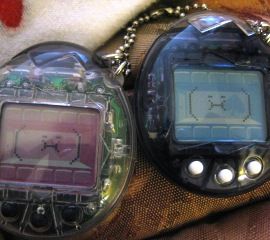 When that happened, I had to get the weight back down to at least 89 before they could transform back into their regular forms. This happened shortly after they transformed into adults, so when I got their weight back down, it was revealed that they had evolved into Megatchi (Aragorn) and Gankotchi (Arwen). I didn't try linking the two just yet, since they had just become adults. Next time!
Tamagotchi P's
Not much going on today, except for the fact that my gal evolved into Neotchi.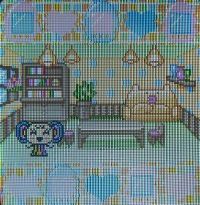 By the way, thanks to ichiro.malfoy, I was able to find out what Chokomakatchi wrote in her journal when she was working as a Park Patrol (see
this
entry). She said, "Worked as a park patrol! There's a lot of walking and I'm a bit tired." Pretty awesome feature!
That's it for now. I'll be working on getting caught up as much as I can. Also, I will post pictures of the newest additions to my collection soon. Till then!