Thanks again, Pantheratchi, for reading and for your wonderful comments!
April 25, 2011
Tamagotchi iD L
As soon as Suzume woke up, she earned her final happy sign (all adult characters on the iD L earn their 4th happy sign after 48 hours of being an adult). I still can't get over how brilliant all that color looks! This happened before she got the chance to take a shower, by the way, so please excuse her appearance. XD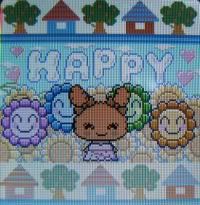 After her shower, we went out in the garden to feed Suzume's pet. As we were about to head back in, Suzume noticed that the stalk we planted yesterday was blooming even more. It blossomed fully to reveal a strawberry! Makes sense because we planted a Popular Fruit Seed yesterday (this is different than the plants on the TMGC+C: first of all, they take a few days to blossom fully and secondly, they don't produce fruit that can be sold...very nice additions on the iD L). I carefully stored our fruit, all the while making a mental note to take it with me to the Tama Marche later.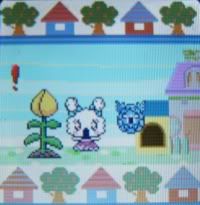 Shortly after breakfast, Suzume and I headed down to the Tama Marche at Donuts Park, which is available in the morning hours. Mamametchi greeted us there and offered 100 GP for the strawberry. I accepted her offer.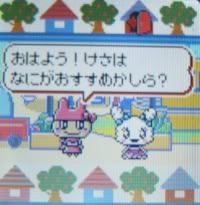 We then headed to the matchmaker, who presented Suzume with many charming suitors (the young man covered in all that paint is quite interesting
). She decided on Kuchipatchi and they professed their love for each other. Here are the cute dating scenes again (they're similar to what's seen on the iD). Love it! I think it's awesome that Suzume is the one presenting the ring. How refreshingly unconventional!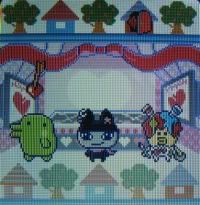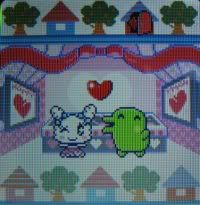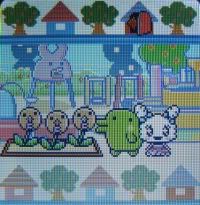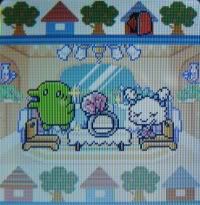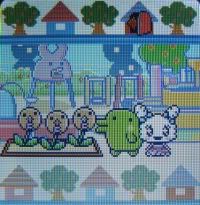 To be continued...