April 20, 2011 (continued)
Please see the previous post for the beginning of my very first iD L update.
There are 2 built-in mini-games on the iD L. The first one is an obstacle course of sorts and the objective is to get Mametchi through it while avoiding the poo, flies, worms, and rocks and making sure to hit the hearts and coins along the way.
Note:
I realized that I have to hit all the hearts and coins along the way; otherwise the full 200 GP won't be earned. Hitting the heart even transforms some of the obstacles into coins so it's doubly important to hit the hearts. The second picture shows Mametchi crossing the finish line!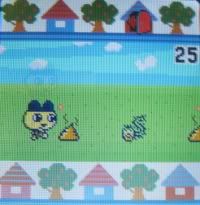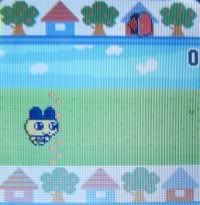 The objective of the second game is to have Kuchipatchi move around on this huge plate of hamburgers and eat them all within 30 seconds, being careful not to eat the skulls if he so happens to migrate to that area. Kuchipatchi takes a bite at the press of the B button. He flits around pretty quickly and randomly, sometimes arriving at a burger and sometimes at a skull at the sides of the plate, so take caution! If Kuchipatchi accidentally chomps on one of the skulls (which lights up in bold black when he gets to them), this huge chicken-looking thing swoops down and eats the rest of Kuchipatchi's burgers. I love the animations!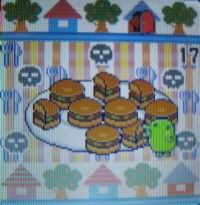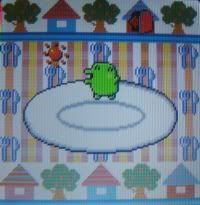 The game in progress and what it looks like when he wins.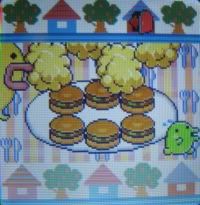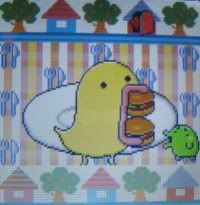 Losing the game. Kuchipatchi looks so terrified...and angry. XD
Next, I took Suzume to the Donuts Park, where she played soccer with a friend. From what I've been reading, the Donuts Park transforms into different things depending on the time of day, so I'll be sure to make frequent visits and see what happens.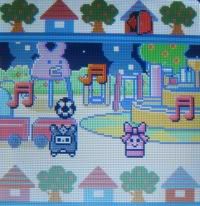 To be continued...