Thanks so much to zacksims123 for stopping by! Good luck with your decision on your next Tamagotchi purchase!
June 28, 2011
Short update for the 28th.
Tamagotchi iD L
Only one more day before Natsumi earns her final happy symbol. She enjoyed a restful day today.
Tamagotchi iD
Sachiko evolved into Memetchi. I don't think I'm going to wait 72 hours for her final TaMa ToMo sign (since I've already had Memetchi). As soon as the matchmaker option opens up, I'm taking her there.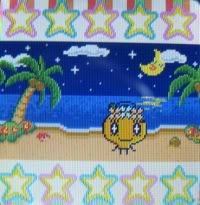 Getting that itch to start up another Tamagotchi although my brain is telling me that it's not a good idea because of the amount of studying and work I still have to do.
Just about 6 more weeks until I'll have my summer break, part II!