I know I said I wouldn't post until tomorrow but I'm super bored! A game I play called Ameba Pico is still in maintenance (I think) and I have no-one to talk to as all my friends are busy and I'm stuck indoors. Ugh, I wish I had a garden!
I have some pictures that I'd like to share, I remember taking a picture of little John from my music star as a baby, and I FOUND IT! I just wasn't looking properly, so I've decided to make a post full of pictures!!! Yaaay! It's currently 2:06pm and the pictures are uploading, so until they are finished, I will just randomly ramble.
Right now, I'm trying to make my log the best it could be, if you have any suggestions on how I could make it better, please comment on my newest status or pm me, I'll gladly take some ideas on board and take some constructive criticism, if spelling is a problem, Google Chrome will fix it, but it's all in american spellings. In England, where I'm from, some words are spelt differently, and because I'm such a bad speller, I may end up spelling some words in the american way, thanks to Google Chrome, so don't be confused if I keep spelling things differently. I'm 100% British! 7/8 English, 1/8 Welsh (I'm so interesting, not).
Okay, 2:09 and the pictures of the Music Star/V6 are uploaded (I'm weird and upload the images separately, depending on what Tamagotchi I'm uploading pictures of)
I Found the Picture of John as a baby! Yaaay!
Umm, I'm not sure what's going on here, but I found John with some eggs and a bunny. Anyone know what's going on? If so please PM me, as this is really confusing.
My Tamagotchi Music Star. There is a red hairband attached because for some reason that is how I wanted to connect it to my lanyard. I've also noticed how dirty my laptop is. Yikes
2:15pm and I'm uploading the pictures of the Tamago. I should have just uploaded them in 1 big bulk but I have to be weird.
Okay it's 2:17 and they are done!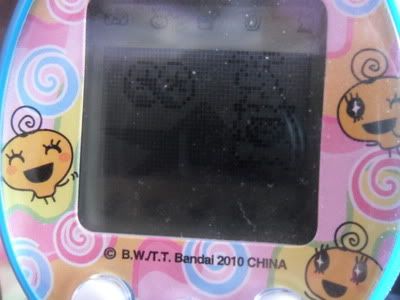 Turns out the weird bunny and eggs thing is happening on the Tamago too! I really have no clue whats going on though.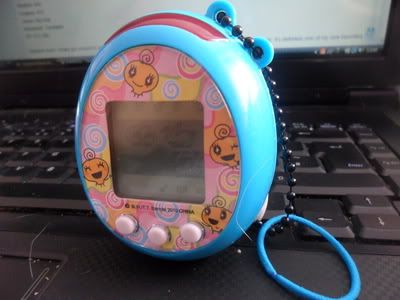 And here is a picture of the tamago. Notice the cat hair everywhere? My cats will sit anywhere and just shed everywhere. I've included a hair band on this one too, for the same reasons as there is one on the music star.
2:19pm and time to upload the ones of my v4.5
2:22pm and they are finished so here they are!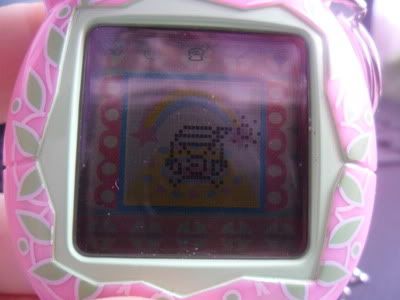 Aden looks very happy here, only because I just finished cleaning up some poop he left me. Thanks for that Aden! I didn't see him doing the little dance thing they do as I was eating some southern fried mattesons. yum!
there things are seriously gods gift!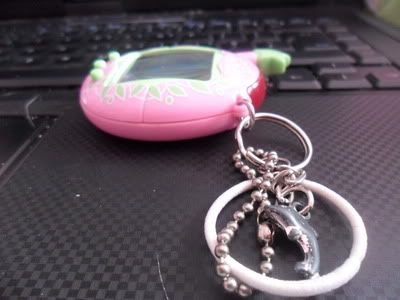 Here is the actual Tamagotchi v4.5
I got really bored and looked everywhere for this particular tamagotchi, there isn't many pictures of it going around and I've only ever seen it once on eBay.
I love the little dolphin charm i put on it, except it needs painting, I might paint it with nail varnish eventually, but I'm lazy. Once again, it has a hair band on it. I think attaching a hair band on with it is a good idea, just my opinion.
Now for bonus pics of other things. 2:27pm and I'm uploading them
Oooh, Aden just received some points from the king. How kind! And John received some poop from the post man, nice.
2:29pm and here are the pictures!
Here is the lanyard I keep my tamas on, for now they are unattached as I am sitting with them checking on them as I type this. All is well!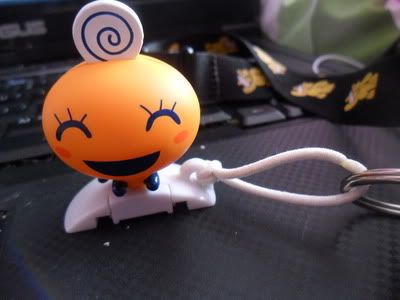 And here is my tamagotchi tamago figure of memetchi! I don't attach it much, which is why it's still attached to the lanyard.
Also, some bonus information. I do type very quickly, but the reason there are big gaps between is because of checking on the tamas, like feeding them and keeping their happiness up, deleting annoying broadcasts from blackberry messenger and I quickly re-size and add the images into the post.
Well anyway, thank you for reading, I'm not sure if this will be the last post of the day or not. Maybe I'll post before I turn my laptop off with their stats, the more posts the better right? Anyway, byee!
Ps. Please PM me any suggestions to make this log better.
thank you