Welcome to the ID L Guide
Welcome to the Tamagotchi ID L guide. I've seen a lot of guides recently so I thought that we could combine them all into one and make it a lot easier to read and make it flow a lot better.
Characters
Several new characters were released in the ID L, some of the more popular ones were included such as
Mametchi
Kuchipatchi
,
Memetchi
ect.
Here are the growth charts Thanks to ZuZu for creating them. (
http://www.tamatalk.com/IB/user/192246-zuzu/
)
(Please remember that these do not belong to me but are property of there owners. (ZuZu) These growth charts do not include the costume characters ect)
Character Happy Symbols
Everyone gets the fourth symbol from being an adult for 48 hours.
Current Information
Agetchi
Fruit bowl - Tama Cafe

Tiara - Tama Mori

Cosmetics Purse - Tama Depa
Chamametchi
Fuwafuwa Castella - Bakery

Skipping Rope from Retro Toy Seeds - Tama Depa

Wing Hat - Tama Mori
Gozarutchi
Ochazuke - Restaurant

Scroll - Tama Depa

Salmon Roe on Rice - Restaurant

Afro - Tama Mori
Guriguritchi
Painter's Palette - Tama Depa

Kurumi-pan - Bakery

Winged Cap - Tama Mori
Kuchipatchi
Dumpling - Restaurant

Heart Cake - Tama Cafe

Cloud Candy - Tama Depa
Kuishinbotchi
Overalls - Tama Mori

Dumpling - Restaurant

Cloud Candy - Tama Depa
Kuromametchi
Curry - Restaurant

Metal Guitar - Tama Depa

Overalls - Tama Mori
Madonnatchi
Flan - Bakery

Microphone - Tama Depa

White Hat - Tama Mori
Makiko
Makeup Bag - Tama Depa

Fourth item - Bakery

Tiramisu - Tama Cafe
Mametchi
Kurumipan - Bakery

Plant - Tama Depa

Crown - Tama Mori
Meloditchi
Heart Cake - Tama Cafe

Kimono - Tama Mori

Ocarina - Red Star Seeds (Retro)
Memetchi
Painter's Pallet - Tama Depa

Sunflower Cookie - Bakery

Blue Dress - Tama Mori
Moriritchi
Fruit Salad - Tama Cafe

Sparkling Scrunchie - Tama Mori

Tama Mori Tree - Seeds (which ones? I can't recall...)
Peintotchi/Paintchi
Ochazuke - Restaurant

Painter's Pallet - Tama Depa

Overalls - Tama Mori
Perotchi
Fruit Sandwich - Bakery

Cat Ears - Tama Mori

Yosegi Kendama - Red Star Seed (Retro)
Pichipitchi
Salmon Roe on Rice - Restaurant

Sweet Ice - Tama Cafe

Ocarina - Red Star Seed (Retro)

Tiara - Tama Mori
Pompontchi
Sunflower Cookie - Tama Cafe

Cat Ears - Tama Mori

Jump Rope - Red Star Seeds (Retro)/Connection Gift
Raburitchi/Lovelitchi
Sweet Ice - Tama Cafe/Princess Dress - Tama Mori

Heart Cake - Tama Cafe

Microphone - Tama Depa
Shigurehimetchi
Ochazuke - Restaurant

Kurumipan - Bakery

Scroll - Tama Depa
Shinshitchi
Graduation Cap - Tama Mori

Steak - Restaurant

Flying Cane - Yellow Star Seeds (Sparkling)
Shuutotchi
Fish and Chips - Restaurant

Afro - Tama Mori

Sports Car - Tama Depa
Spacytchi
Steak - Restaurant

Tiramasu - Tama Cafe

Metal Guitar - Tama Depa
Usawatchi
Pie - Bakery

Tiramisu - Tama Cafe

Teal Dress - Tama Mori
Violetchi/Furawatchi
Flan - Bakery

Flowered Hat - Tama Mori

Yosegi Kendama - Red Star Seed (Retro)
(Thanks to http://tama-zone.com...showtopic=24412)
(Also Thanks to http://tama-zone.com...ic=24412&st=150)
Food and Items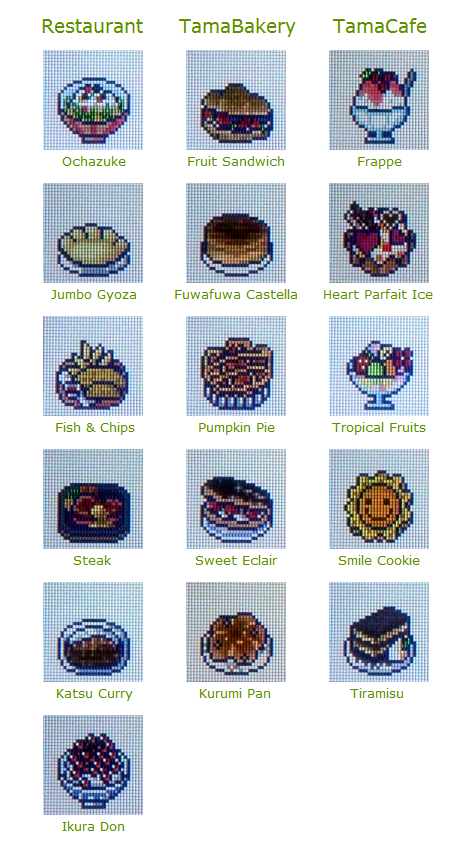 For a list of more information, please visit TamaZone's whole topic on the ID L
http://tama-zone.com...5