Hello people of the world. Sheldon evolved into a Kilalatchi or whatever, same character I always get. He's currently paused at the moment. But there is much more important news today. Guess what came in my mailbox?
A fried chicken?
Scooby Doo Collector Glasses?
Cheese Its?
No. This:
WOOO!!!~~~
Earlier than I expected. It was supposed to show up on like Friday. So, after a panic of finding nothing but old dead tama batteries in our drawer, and after giving up all hope, I looked at the packaging and noticed a little folded piece of paper. I unfolded it and it was a battery taped to the paper with writing in red pen, reading "new battery". SO THANK YOU PERSON!!!!! I put in in quickly and set everything up. I saw an egg.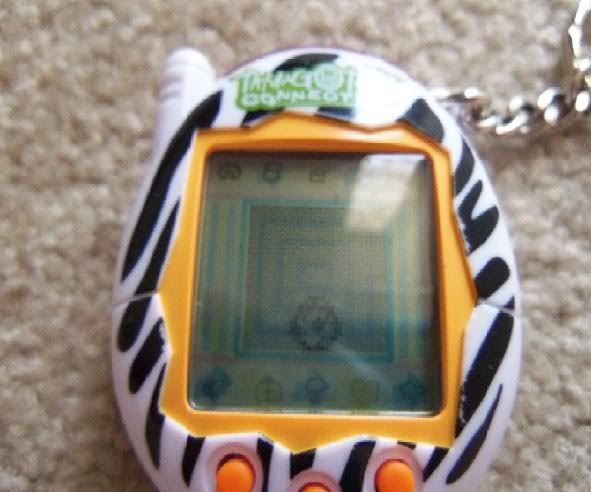 Which soon hatched into...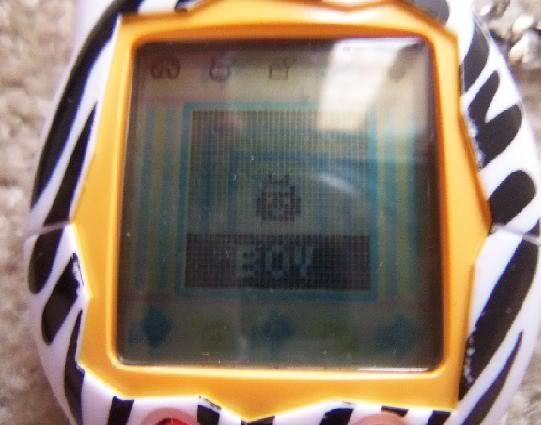 Which I named....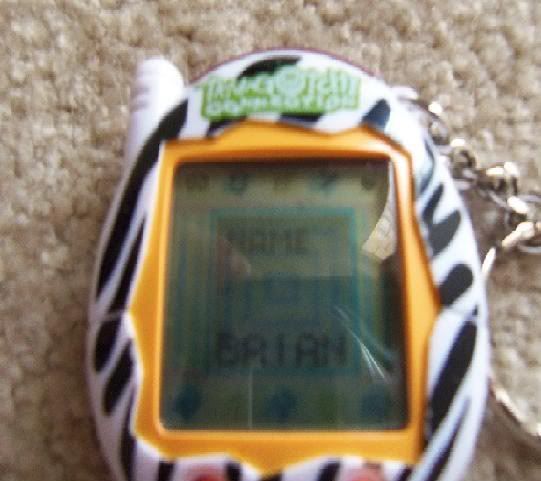 (In case you can't see, that's Brian.) I fed him and played the music note game with him a few times, which by the way is addictingly fun, did this for a while until Brian got tired and decided to catch some Zs.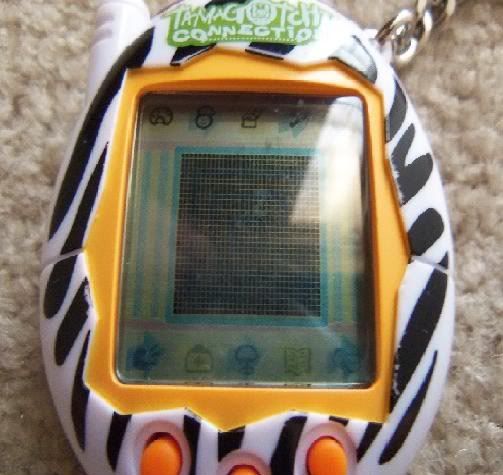 Soon after his nap, he evolved into this thing:
Which I'm not sure exactly what it's called, but it's cute. Oh my gosh I just saw him rolling!!!!!!! AWWWWWW
What's so cute?
You!!! SQUEEE!!!!!
Who are these other people?
I'm Christine! I like Chinese noodles and mint Pocky, which I think I have mentioned before. Just you weren't here.
And I am Bat-Man. I'm awesome. No offense to you or anything, but I play the keyboard and that's coool.
Basically, he's just stuck up.
Am not!
And I am Sheldon. I'm going to become a Mametchi if Noodle can get my training points up enough! *glare*
Sorry... you're hard to catch!
And I was kind of ignoring you today and making little stuffed things with felt.
I know! It says-
No. Just don't even try.
And who's Noodle?
That would be me, the person who bought you with my own money and grabbed you off e-bay at the very last second.
Oh. Well thank you.
What did I just hear? A tamagotchi being grateful to me? This must be a dream!
Only for now. *evil grin*
Yes, yes. He'll soon change. *eviler grin*
Yes, for he is only a little toddler and does not know better. *evilest grin*
I like cheese. *cheesy grin*
You guys are just horrible. So, as promised, it's time for an art tutorial! Read the next post for it!