Hello~~ Brian's due to evolve into an adult any minute now... he seems to like to evolve around the same time that he was born. Anyway, paused my v4.5 because I was getting annoyed by her, ran Sheldon so he could evolve and he did. Into this.
-.- Kuromametchi. I really thought I had all the stuff I needed to get Mametchi. >:/ Full training, full friendship, everything. Oh well.
I am the mighty Kuromametchi. Hear me roar. Um. Roar?
He looks like he has an evil grin in that picture.
Yeah, like he's plotting something dastardly.
Wahaha! Little do they know that I am planning to TAKE OVER THE WORLD!!!!!!!!!!
We do now.
Oh shoot. I said the loud part quiet and the quiet part loud.
Anyway, don't I have a much nicer close-up?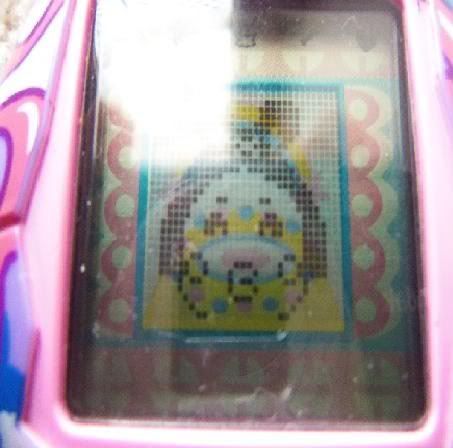 See? A pretty smile.
No. Stop. You're too smiley for it being so close to school starting up again. CAN YOU BELIEVE THAT I HAVE TWO MORE DAYS OF FREEDOM UIGADUIGFOHGOTEIOGAIUGSDSDKADSDKKOHIOKFHIEOFEBGUFHOIEU siggghhhhhhhhhhhhh okay end of panic. And now for coverage of today's bread eating contest that took place today. I'm your announcer, Noodle, bringing you the play by play.
Okay. Here we are, standing by....
And they're off!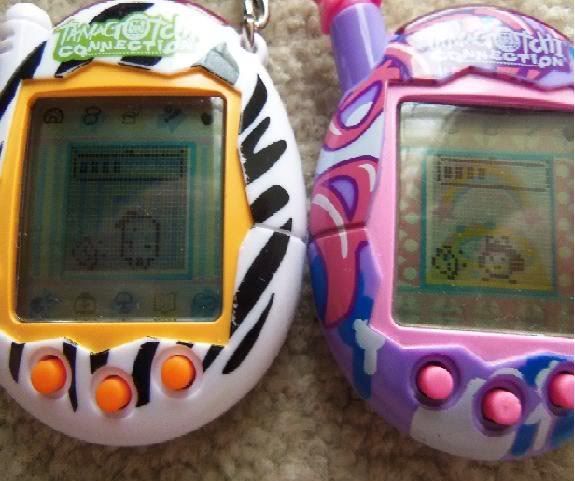 The athletes munch on the bread endlessly, eating each loaf in only three bites! Wow, what a competition! And the final results! Brian falls flat on his face just before eating the last loaf of bread needed to win (xD) and so Christine is the victor! And we don't have photos of this because my camera was falling asleep because I hadn't pressed a button in a few seconds and therefore when I tried to take a picture the moment had passed. <-- run on sentence.
I wanna evolve nowwwww
I want you to evolve too. I want kuchipatchi!!! I've never had him before and I really like him. :<
OMIGOSH MY CHEEEESSSSSSSSSSSSSSSSSEEEEEEEEEEEEEEEEEEEEEEEEEE
Christine?
Her cheese?
*walks into kitchen* Christine, what now? Did you set fire to ice again?
Fire to ice? How?
Believe me, if anyone can do it, she can.
NOODLE!!! HELP MEE!!!! I WANTED TO EAT SOME CHEESE SO I GRABBED A CHEESESTICK AND ALL THE SUDDEN IT VANISHED INTO THIN AIR!!!
Are you sure?
YES!!! I KNOW IT!!
*looks in fridge* Hey! Noodle, all the cheese in our cheese drawer is gone!
*looks in oven* And the mozzerella cheese sticks I was heating up in the oven.... the cheese in the middle is gone! It's just the breading!
Say, where's Sheldon?
Hmm... something smells fishy about this. So,
THE WEIRD RANDOM THING OF THE DAY
is that I stitched a plush frog yesterday.
THE RANDOM WORD OF THE DAY
is London. Please PM us all with comments and suggestions, and have a good day!
Psst hey people! *whispers*

yes, read this tiny text right here! Can you see it? Okay, good. If not put on your glasses. Or get a magnifying glass. Or go get a slice of swiss cheese and look through the holes. It actually works really well, surprisingly. Anyway, just so you know, I made the cheese disappear! It's all part of my plan for world domination!
Sheldon? What are you whispering to the people out there?
Oh, nothing. *EVIL GRIN*
What did you say?
Go get a slice of swiss cheese and figure it out.