Thanks for 17,142 views!! That is actually so crazy to me!
Wow I cannot believe that sooo many people actually read this log! So thanks to those who've been reading from the beginning and those who stopped by along the way, and even to those who used to read and don't read anymore because I love you all so much! 
Yeah, yeah. Get on with the mushy stuff and start talking about ME
Someone woke up on the wrong side of the bed today. 
 You're usually not this bossy.
I may be starting to take after my dad in my old age.
Old age? You're only.. *checks* 6!
That's like 60 in human years!
Hm, so tama years go on a scale of multiplied by ten? That actually makes sense.
Yeah great Noodle made a connection so START TALKING ABOUT ME!
Okay, sheesh.
Greyson got married yesterday and had a son (yet another boy why) who is named Carl (most creative name ever i know).
~Photos~
So, at 3:00 PM yesterday, the matchmaker showed up!
I wonder what she has in that book..
Maybe it's her diary, daddy! 
Or maybe it's where she keeps the souls of the girls she keeps captive for us to marry....
O_O
Greyson stop! You're scaring your son!
Sorry baby.
0_0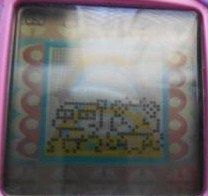 The matchmaker brought us an ura violetchi.
0_0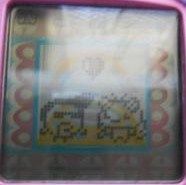 Of course, they fell in love instantly like they always do.
0_0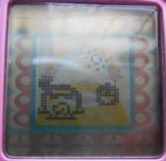 And then Carl was born! The end. (of photos)
0_0
Hey, Carl. Are you okay?
0_0
Son? Speak to me, son!
0_0
Great. Now he's in shock because you scarred him for life with your talk about what's in the matchmaker's book.
0_0
No... it's not that... I've seen this before.
What is it then?
His face is frozen!
Umm.. okay? So how do you cure it?
0_0
We must defrost him!
Wait how-
*throws Carl in microwave and sets it to defrost*
*screaming*
Greyson!! What the heck are you doing?! Get your poor son out of there!
*frantically slamming buttons on microwave* I'M TRYING TO STOP IT BUT IT'S NOT RESPONDING!
Ctrl, alt, delete?
THERE IS NO TASK MANAGER ON A MICROWAVE NOODLE
Ummm... I don't know! Panic!
*panicking*
Um hey Greyson?
ASDFGHJKLODEL WHAT
What's happening?
*microwave rumbling*
Oh-
*microwave explodes*
Carl??? Where are you??
I'm right here, dad!
Oh thank goodness you're al- Carl what happened to you? You're all puffed up like a marshmallow!
Hehhehe that was fun! Let's do it again!
Whoa. He's almost bigger than you now, Greyson!
I don't understand! What happened to him?
Maybe since he's such a blobby shape he expanded and got bigger kind of like marshmallows do when you put them in the microwave?
Fascinating.
And now we know what happens when you put a baby tamagotchi in a microwave. Tune in next time when we'll solve more pointless mysteries! Bye!
Bye!
*tries to roll* Help I'm stuck!
Hm. Apparently he's sticky like a marshmallow too.
 
Edited by CheesyNoodleTama, 20 June 2014 - 06:32 PM.