Hello Everyone! I hope you are enjoying my log so far and if you have a any comments/ questions feel free to PM me! Really, I don't bite.
I feel like this log needs more tamagotchis, but I don't know which one to get. PM me if you have any ideas! Now, on with the log!
Tama-Go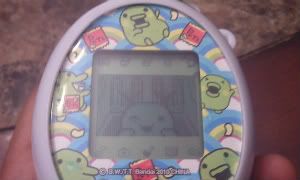 Coco is still a Pipotchi. =P
What's this I hear? You're going to get another tamagotchi? Which version?!! Will it have color?
Sorry, I can't get a color tama, too expensive. I don't know which version yet. You'll just have to wait and by the way I'm going to order it online so it make take a while for shipping once I decide which tama to get. =P
What about next day delivery?
Sorry, next day delivery is like half the price of the tamagotchi itself!
Darn it! Are you still going to take good care of me?
You're probably not even going to be here by the time the tamagotchi gets here, you're son/daughter will be here though.
A baby? What's a baby?
Babies are little tamas. They look like this.
--->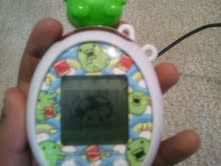 Did I look like that when I was little?
Of course! Now before we get into a deep conversation that will make this log's reader's get tired, let's end this log!
------
Thanks for reading, have a great day! =)
Edited by ayan300, 10 April 2012 - 05:07 PM.