Today i had fun with my v4.5, keitai, and morino. I think it was a pretty relaxing day over all...the funniest thing that happened was my morino getting a little smooshed, lol.
I have him in a little protective baggy, so its a good thing he makes alot of noise as the foots coming for him. Or id never know, lol i saved him like 3 times but he still got smooshed twice. He looks so sad in his bandages
Im just happy he evolved today, even if hes just a lighter grub now instead of a dark one. (Cause i hear some of the vintage tamas evolve super slow)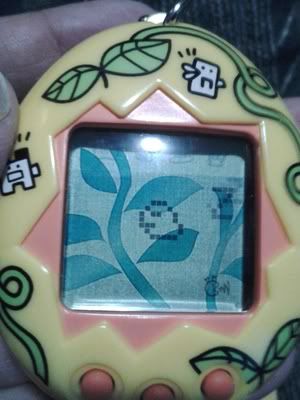 *I noticed that once my morino goes to sleep, the bug on the screen saver stops flying around and just stands still, lol cute little detail* My keitai was still the tomato today, he was a little more needy today than before. I tried to play many games with him to hopefully get a cute character when he evolves. He baught a balloon from the vendor, so now he has two toys YAY (the others a ball).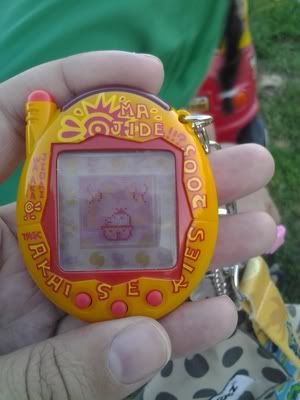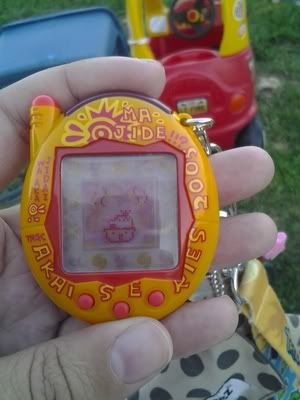 He sure did enjoy his bath. And for my v4.5 Shawn, i sadly forgot to get n e pictures of his day
. I really do like the Urakuchipatchi.. according to tamagotchi.wikia.com hes the opposite of kuchipatchi; so hes very hard-working, but still trips alot
. Cute! He got his job letter today [!] , so the job he chose once he glanced through his options was the hospital building. And to my surprise, its the exact job he needed to get his spiritual points up (the fist). Yay so i could finally stop playing man-hole and instead send him to work to play the "catch the hearts not the skulls" game instead. It gives him 10 spiritual points at a time for winning..
The day ended with him having 338 points, hopefully i have enough soon to get him to evolve into the muscly guy. Heres where my tamas im running sleep at night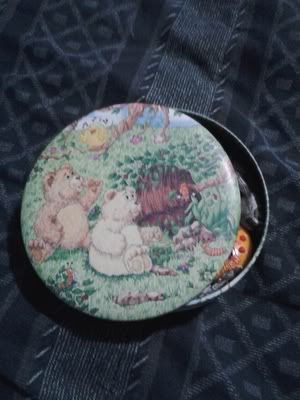 They are sleeping on a soft silky scarf i dont use n e more, and the tin "box" was just 99c from a thrift store. Well im out, g-nite yall.