I know there are lots of bakers here at tamatalk, so I thought it would be nice where we can share our latest baking creations. Photos are nice. Everybody feel free to post.
I'll start. I attempted a cake 2 days ago, a checkerboard cake. It turned out ok I guess. I'm not too proud of it. Here's a some photo:
I'm a beginner to baking decorating cakes, so at best, you could call my decorating style "rustic".
Now for the EPICUTE!
I was in the mood today for some baking, so I decided to try something I had never done before, macarons. These are very difficult, and need to be made on a dry, dry day or they deflate. Whipping the egg whites was the coolest part, watching them get all fluffy, like a cloud. I colored them pink, to make it a little more fun, But then, I was like....Why not make them piggies! So I did! Here they are.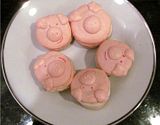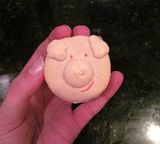 They are actually more pink than in the photos.
Here's what they look like on the inside: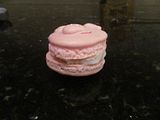 They are regular macarons with vanilla buttercream icing. I am quite proud of them.