This is horrific... Because Bandai Japan is making Tamagotchi more for girls, it looks like the mascot is changing from Mametchi to... LOVELITCHI?! I know Mimitchi was once the mascot, but I think the mascot was always meant to be Mametchi--the best care adult on the first Tamagotchi ever made. Lovelitchi's just some modern, newy-dewy character and now she's overtaking Tamagotchi! Those of you who have an iD L will notice how she appears on the packaging and throughout the instruction manual... and just look at the Tamagotchi anime poster for 2012: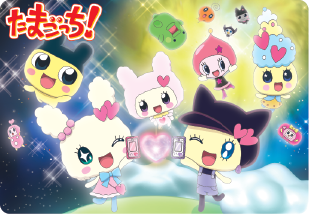 ...That's ridiculous; Lovelitchi, Melodytchi, and Kizunatchi are all in front of Mametchi, and Memetchi and Kuchipatchi are just specks! I like Lovelitchi--or
want
to like her--but I am starting to detest her because of how overused she is... Mametchi is way better!