'K so not much happened, except I took Feliks on TamaTown, where he finally got to see Pasta again xD

Later on, he met up with Kiki, Matt's Music Star, in Forest Falls

Chillin' in the hot-tub, and wearing his weird outfit xD
We played Tama Trails, and even though we didn't win, I took a snapshot of this, because it looked funny to me. Guess what I'm talking about... Hetalia fans should know this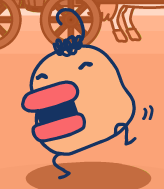 So, what is it? *coughItalycurlcough*
And so ends Feliks's TamaTown adventure.
It was fun! And we still haven't watched any Hetalia together yet!
Don't worry, Feliks, we will, tonight. I promise.
Yay! How many episodes?
Maybe one... maybe more than one... how about if you pass the judges at some point tonight, we watch the first ten episodes?
Sounds fair!
Well, okay then, that's it for today I think. Byeeee for now!!!
~Teri and
Feliks