Megnutt's Tamagotchi Connection v2 and Tama-Go Log
by: Megnutt
Hello fellow Tama-Talkers! I just want to start by saying that these logs are what lured me onto this site, and I would love to be a part of the community by recording my own!
I have not seen many logs about the Connection v2, so I thought, "Hey, since I have one, I might as well Log about it!"
This log will contain:
Day-To-Day coverage of my Connection v2 and (eventually) my Tama-Go when it arrives.
Pictures and text describing my Tama and it's shenanigans.
Hopefully well organised content that should answer any questions regarding both the Connection v2 and the Tama-Go.
First off, I would like you to meet Tama, my second generation MaruMimitchi!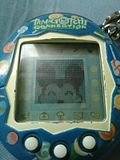 Say Hello!
She just evolved today, and this is the first time I have ever had this Character before! She's cute, isn't she? :3
My first generation was John (named after my favourite Homestuck Character!), who turned into a Violetchi and eventually married and had Tama. Tama is already an adult, but as soon as she has her baby, I can begin logging the techniques I use to raise it.
Some information on my Connection v2:
Unfortunately, NO, I do not remember when and where I got this particular Tamagotchi. All I know is that myself and my siblings got one each for Christmas or some similar event a while back.
I recently found this Tamagotchi when my family moved houses. I dug around in a box that was untouched for years when I found it.
Yes, it has a few bumps and (maybe more than) a few scratches,but I still love it!
If you have any more questions, please do not hesitate to contact me Via PM. (Do NOT post here, as it is against the rules).
Thanks for reading and I hope you enjoy my Log! I will begin the true logging tomorrow morning and have something posted by tomorrow night!
See You Soon!