Started by
liangjpop
,
Sep 20 2012 11:58 AM
This topic is locked
Posted 20 September 2012 - 11:58 AM ( #1 )
what is the difference between the two? And which one is more fun?

---
Posted 20 September 2012 - 12:47 PM ( #2 )
VERSION 4.5!!! Honestly, I could give a whole lecture/essay about my precious 4.5!
If you want a normal v4, get one, but if you'd love a v4 with better games, and special charcters, get a v4.5! I had a v4 that broke, and thought, after a while that it was a bit boring (because I'd played with it for years and years) so I didn't really want to part with some money for one again. So I saw a 4.5 on eBay that looked pretty, and was affordable (£6, around $10 in the US) so I bought it.... It is AMAZING!!! I don't really think that you need [another] v4 if you have a 4.5, except for collections sake, (or games sake!) but if you have a v4.5.... Its the v4 with better features!!
Differences from the v4 from v4.5:
- Games for starter, the v4 comes with these games: Jump Rope, Mimic, Shapes, Flag and dance. The v4.5 comes with less tiring (my opinion!) ones: Climb, Tug of War, Apple, Shape(a different game, tho similar title!) and Man-Hole. Not ALL the games are THAT fun, however, I have more than once stumbled across how to play them...
- Skill Points, the v4/.5 makes you collect points to get your tama a job, but they fall in different categories.
- Jobs, the jobs are different, more fun (my opinion!) on the 4.5
And more items, I think, at different prices!
At the end of the day, my opinion is a Version 4.5, but others would consider a version 4. The reason I'm stating a Version 4.5 is probably because its my latest tamagotchi, and I've had my version for since... 2007 or 8, I think...
Hope I helped!
- Dixie
Edited by GotchiGuardian, 20 September 2012 - 12:50 PM.
---
Posted 20 September 2012 - 04:09 PM ( #3 )
I like the v4.5 better because I think the games are easier & the characters are pretty cute :-)

---
Posted 20 September 2012 - 05:52 PM ( #4 )
I like both. I don't think one is "better" than the other. They're both simply the same at heart, with a few changes in characters, games, and jobs. They have the same amount of features, so you can't exactly judge them on that, and they're similar features with slight changes besides.
The big differences, as mentioned before:
-characters. A huge difference here.
-games. Also a huge difference...in terms of "better", there isn't real
-jobs. Not so much.
Characters...
The V4, in my words, has more...subdued characters. It has the classics; Mametchi, Memetchi, and Kuchipatchi, along with others like Maidtchi, Shimashimatchi, and Makiko, for example. The V4.5 is circled around the Ura characters. Some characters have "Ura" versions of themselves, and others are completely new characters. Observe:
V4 character (Pyonkitchi? I forget xD)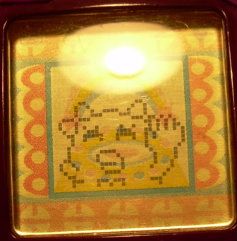 V4.5 character (I don't even remember anymore -.-)
Also, a note: the V4.5 does have a few originals (If I'm correct, Mametchi, Memetchi...and Mimitchi or Kuchipatchi, 3 of those 4), but only as Universals.
Games:
As mentioned by GotchiGuardian, the V4 comes with 5 built in games: Jump Rope, Mimic, Shape, Dance, and Flag. Note that you don't unlock these all at once. The V4.5 also comes with 5 games: Climb, Tug Of War, Apple, Shapes, and Manhole. Neither of them have the same games. In my opinion, the V4.5 games are a bit shorter than the V4, but both are just as fun.
Jobs:
This doesn't really have too much difference. Some jobs are the same, some are different. I can't really go into detail...there's too many to remember. xP
Okay, I hope I didn't make your brain explode with all this info. (:
Edited by kuchipatchi.is.blue55, 21 September 2012 - 08:38 AM.
---
Posted 21 September 2012 - 06:01 AM ( #5 )
V4 all the way! xD The V4.5 has games that are more fun, but I prefer the V4 because I am more familiar with it (the last time I used my V4.5 was years ago, because it went glitchy) and because the characters are more well-known and adorablw! V4.5 doesn't even have Mametchi! True, it has Ura Mametchi, but he's a different character, lol. But that's just my opinion. :> I actually almost love them both equally.

---
Posted 21 September 2012 - 06:18 AM ( #6 )
xD So you see, people have different opinions, depending on which one they got first!! Maybe you should get your v4 first, and when you've enjoyed that, move on to 4.5. That way, you wont have to go down a version and have less features. Good luck with buying a tamagotchi!!
---
---
---