Bubs arrived in my UK home this afternoon.

Booted it up straight after I put a screen protector on it and got a baby girl. A Momoirotchi.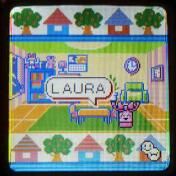 Looked after her to the best of my abilities, as well as trying to get to grips with the new interface of the colour screen and the new terminology. Wasn't easy.. But then she grew into a Rolutchi.

Went to bed at 7 which gave me chance to get ready for work. But before she did I used my gotchi points to get her a Hoover for her living room.


Need to look into cheap IR phones for all the content, but ATM I'm just trying to not buy the blue version as a friend for my pink...




Forgot to add I'm doing a 10 hour shift at work tomorrow, going to try and leave her unpaused and hopefully be able to check on her during my breaks, but if it really affects gameplay I'm going to have to use the clock pause tip just while I can't be there.

How does everyone else manage at school/college/work when you literally can't get to your Tama?
Edited by Admin, 08 February 2014 - 08:04 PM.