I heard from the Moshi Monsters Wiki, that Lady Ga Ga sued Moshi Monsters over a Moshling. Then after a while, the song "The Moshi Dance" as sung by Lady Goo Goo, was taken off of iTunes, and Lady Goo Goo wasn't being promoted anymore, so the creators of Moshi Monsters had to make changes, and replace Lady Goo Goo with Baby Rox, a new Glitzy BooHoo.
Here's Baby Rox's appearance: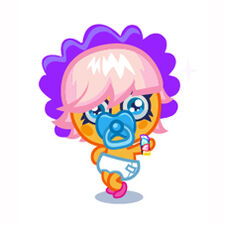 She almost looks like Lady Goo Goo, but with a purple bonnet, pink hair, blue pacifier, and a Rox bracelet around her right arm.
Edited by ChamametchiandMametchi, 02 December 2012 - 11:20 AM.