I understand that your character can go to Tsubomi Park at certain times and go on dates, but I have a question about it -- I can read very little Japanese, so I don't know what it says when you meet up with another character. Is it asking if they want to date, or what?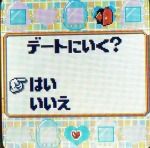 I can see that my options are Hai, and Iie, yes and no, but I don't know what the question is. I just don't want to marry anyone off before I'm ready to take care of a baby
If I click yes, will they just go on a date?