This topic is locked
---
Posted 28 January 2013 - 07:27 PM ( #2 )
*Topic moved to '(Non)TamaTalk: Stuff We Watch'*

You rang?

My favorites...
Group: Yes! Pretty Cure 5/ Yes! Pretty Cure 5 GoGo
Single Character: Aqua, Beauty, Dream.
Leader: Dream
Series: GoGo
Most watched: Fresh Precure
First watched: Original-Max Heart
Special: Passion, Milky Rose
Fairy: Candy
Commune: CureMo, Heartful Commune

---
---
Posted 23 April 2013 - 09:54 AM ( #4 )
Well... Since this last post.

The DokiDoki team are rushing into my heart. Such a great season so far. Surprised they all got power up already. Then they match, surprising since Bandai makes a killing when they are different.

---
Posted 06 May 2013 - 11:15 PM ( #5 )
   
i love dark, bad end, evil precures! (and i love the song that is with the video) 
i think they are pretty cool! anyone else?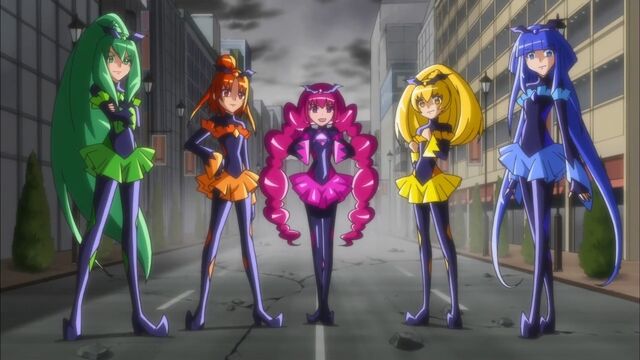 here are some pics of the evil precures from of the sieres.

 
---
Posted 07 May 2013 - 11:51 AM ( #6 )
I joined the topics together...

Favorite was the Dark Precure 5 team. Dream being my favorite... She gets so emotional during the whole scene.

---
Posted 07 May 2013 - 11:25 PM ( #7 )
i have not seen any evil pretty cure battle. i have seen AMVs about them fighting, but not a whole seen. i have only watched one episode of dokidoki but i was reading about them the other day and they seem awesome! 
---
Posted 08 May 2013 - 06:49 PM ( #8 )
Go watch the Yes! movie. That one seems like the best to me.

The heartcatch was like their personal doubts.

I haven't seen the darkside smile cures. I think they might have been fears or something simmilar.

---
Posted 17 May 2013 - 12:13 AM ( #9 )
i will watch it. i am looking forward to that siries. i am trying to go in order. i am like 7 episodes and 2 movie away from finishing futari wa heart max for good. then i get to move on to splash star. i have seen some episode of smile precure. i think it might be my fave. i watched the first 7 epidoes. then i watched the one where they get turned inot little kids. and i watched the one with brian taylor, i like that one. and i watch some episodes of heart catch. and the heart catch movie. i watched all the dx and new stage movies. and  did noe get to watch new stage 2 yet. and i only watch about 4 parts of the new stage 1. 



and here is something kool. either nao, raika or both can been seen a lot at around 8:40.
i did not find this out btw
Edited by tamagirl1017, 17 May 2013 - 12:18 AM.
---
---
---
Also tagged with one or more of these keywords: prettycure precure, pretty cure, libbytchi, bad end, smile, yes gogo 5
Tamagotchi General

→

The Library

→

Tamagotchi Logs

→


Started by tamagirl1017 ,

06 Jun 2014

libbytchi



(non)TamaTalk

→

Stuff We Play

→


Started by tamagirl1017 ,

06 Jun 2014

libbytchi



(non)TamaTalk

→

(Non)TamaTalk - General

→


Started by tamagirl1017 ,

04 Jun 2014

libbytchi

Hot

19 replies
2,144 views



(non)TamaTalk

→

(Non)TamaTalk - General

→


Started by tamagirl1017 ,

29 May 2014

libbytchi

Hot

92 replies
5,636 views



(non)TamaTalk

→

(Non)TamaTalk - General

→


Started by tamagirl1017 ,

24 Apr 2014

libbytchi