** Purple 15th Anniversary iD L **
Melodytchi's last Happy Symbol came!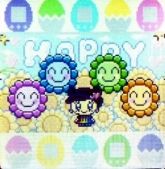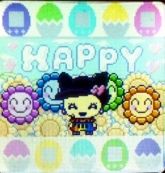 Yeah, she's number 21, apparently.. it's going to be really fun to scroll through all of the numbers to find the tamatomo characters I already have! 
We took a trip to the matchmaker about two hours ago; Melodytchi met many fine young tamagotchis there. 
some awkward..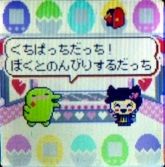 some elegant..  
  and some plain strange!  
but in the end, there was really only one that could fit the bill...
Edited by indiGOtama, 22 March 2013 - 01:05 AM.