white ps
Ok, first of all, look how cool the space remodel bed is!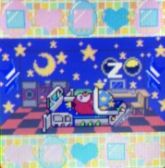 Seriously, I wish that my bed looked like that!
So my Mitsumarutchi evolved grew into a Maimaitchi. I've decided to grow him into Nandetchi using the "special"
way, however, which means he got to play with the robot 20 times, and then a few more times after just to be sure.