Hey everyone! So, as you can see, it's been a while since I've been on here, and also a while since I've done anything Tamagotchi-related. I'm hoping to get back into it a bit, at a slightly slower pace, since I have a lot of other things going on in my life right now which are more pressing.
I decided to start up the P's against first, and started right back up where I left off.
**White P's**
Apparently my Pinkubotchi had grown all the way into a Himespetchi since my last log update. She already had her puzzle piece for being full grown for 48 hours, so all there was to do was to get the other three.
I started with giving her the lab coat, which gave her one puzzle piece.
Next she played with the mirror, and a pretty adorable cutscene then ensued, resulting in the third puzzle piece.
Last on the agenda was a health drink from the Music Cafe, which she shared with Mametchi. This resulted in the fourth and final puzzle piece.
With her four puzzle pieces, my Himespetchi is ready to get married and begin the rest of her life, hopefully leaving behind a brand new bundle of.. er.. pixels? Here are her stats: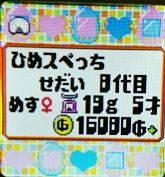 More updates will come later when I figure out who I want to try to mate her with? Idk, I kind of don't remember a lot of aspects of tama-playing, but I'm sure I will get back up to speed soon enough.