Hey everyone! So I've recently decided to start collecting virtual pets which are themed around media; meaning movies or television shows!
So far, I have:
*Star Wars Yoda Giga Pet
*Star Wars R2D2 Giga Pet
*Pokemon Pikachu by Nintendo
*Alethiometer virtual pet from The Golden Compass
*Rugrats Giga Pet Plus
*Toy Story Virtual Pet
I'm hoping to get more soon. But, I'm gonna do probably just one virtual pet at a time, and I would like to start with Yoda!
** Star Wars Giga Pet -- Yoda **
Basically, with this pet, you get to take care of your own personal mini-Yoda form the Star Wars series; BUT, instead of you teaching him tricks, he teaches you!
So, here is the packaging:
After asking me for a name and the time, my Yoda appeared on screen.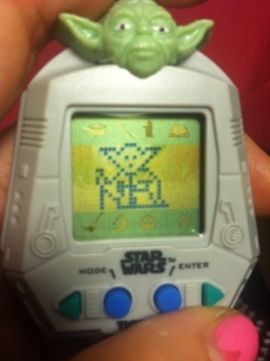 as you can tell, there are 8 icons, much like Tamagotchis. 
In order from left to right, here's what they are: (top) Feed, Train, Ask Yoda, Teach. (bottom) Clean, Sleep, Score, Attention.
Under the Feed icon, there are two options: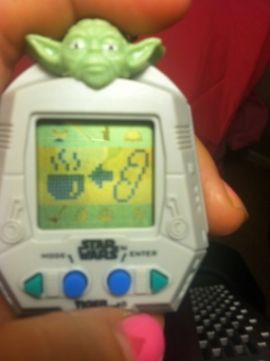 The soup will keep him healthy, and the bread sticks will keep him happy. 
The Train button seems to be sort of like the mini-games on the Tamagotchis. You can play one of three games in order to improve your Jedi Training
 in alter, you try to levitate a rock by pressing the left and right arrow buttons quickly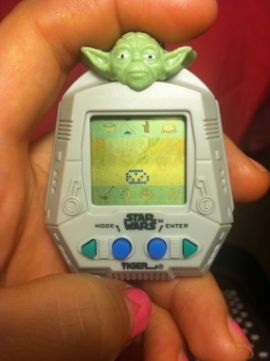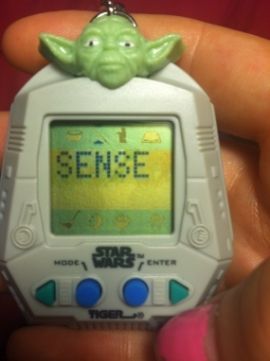 in sense, you try to guess the hidden shape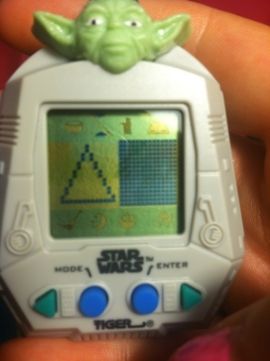 in control, Yoda cycles through shapes and you have to press enter immediately when you hear it beep.
The Ask Yoda option is supposed to let you like ask yoda things, but whenever I try it, Yoda just quotes something mysterious and philosophical to me.
   and the Teach option seems to do the exact same thing.. I need to learn more about that..
Edited by indiGOtama, 21 March 2013 - 01:15 AM.