So I'm trying the log thing again!  It will not be daily and there may be many days between posts depending on my schedule.  It will also have V-pets other than the Tamagotchi, however as that is what I have the most of, it will be overwhelmingly Tama-related.
We're jumping into the middle of things with the first post, since I'm in the middle of two versions right now.  I have a V3 running, as well as my iDL.  I do have a new pierce for the P's on its way, so the P's will probably pop up soon as well.
Some of you are probably familiar with my oldie, Lorne.  If not, check out the Long Lived Oldies Hatch  (http://www.tamatalk....d-oldies-hatch/) to see his history.
Lorne is 37 years old, which is, I think, a year older than my oldest Oldie previous to him.  
He may be old, but he certainly still gets his excercise!  He went for a power walk this morning and I managed to snap a picture despite the fact that he was speeding by with those awesome tennis shoes!
When he got back home, he decided to pull out the record player and listen to one of his favorite songs while relaxing a bit from the walk~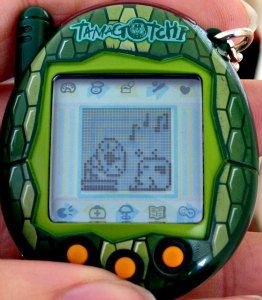 I think he was a little sad when the song ended.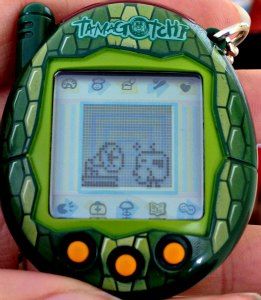 Meanwhile, his next door neighbor, Princess Lavuli decorated her home for Easter!
She's pretty proud of her work and was excited to show it off to you all!