Hello everyone! 
 

My Entama came in the mail today. I was very excited. After I opened the package I lay my eyes on the design, it was very nice. I love the red and black theme, it has GUTS written on it too. Nothing wrong with an ungirly design modern Bandai. This is probably my favorite design I have of any Tamagotchi. 




After I pulled the tab, entered in all the information, the little egg began to wobble. It hatched into a boy! I don't know Japanese, do I just named him with a single musical note that is in the characters. He was the Meme family baby. I fed him, and played the games. I must say, the games are a lot of fun! However, I really suck at the intelligence game.




A solid hour of caring for the baby, he evolved into his toddler stage. I love the Meme family toddlers and babies. He got mail, inviting him to the Preschool. After being greeted there by the lovely teacher, he was accepted into the Preschool.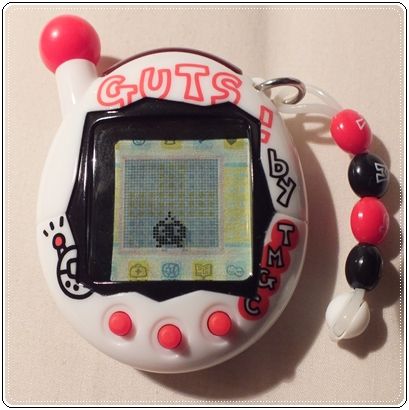 I wasn't sure how to get my Entama to go to Pre-School, but without any warning this little animation appeared on the screen. 




His skill points currently show:

Intelligence: 14
Creativity: 13
Social: 32
That's all for this entry.