Hello! I don't know where to start with my questions as I'm still very surprised Tamagotchi's are still quite popular lol. I haven't heard anything about them for years and all of the sudden there's a bunch new models and versions out that I've missed out on growing up. Just started up my two Tama's about a week ago and I already want to try more out xD
I guess I can start off by asking, what is your favorite Tamagotchi/version? Why is you're favorite and what is it about? I'm looking for different ones to get but I'm overwhelmed about all the differences in them and the "stories" to them.
Where do you buy yours? The ones I'm Amazon are like $40, are they supposed to be so expensive or am I looking in the wrong places? I'm half tempted to get this one just because it's so cheap, but I've heard it's a lot simpler version and a ton more bulky. Does places like Walmart, Target, Toys R Us, ect, even sell them anymore?
And can you help me figure out what versions I have? 
I think these are V3's, am I right? And can anyone tell me what the name of the characters are? If they even have names in there teenager strange lol
Is this a V4.5, maybe?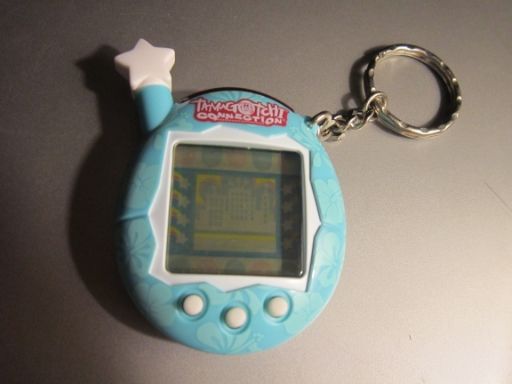 I also gave one to a friend a couple years back since I wasn't using it (trying it get it back now, how mean lol), but it was this one. Is it a V4?
Can anyone tell me what the difference is between the versions I listed? I'm not sure what to expect when I start up the V4 and V4.5 since I haven't played either. I really only played the V3's for a couple years before I got bored but have been really interested again in them lately.
And I hope none of you mind me asking, but what's the age general age group of people on the forum? I got my V3's when they got popular, which was around 2004/2006? It's been a while since I've gotten them, but I'm just wondering if I'm the only 17 year old that will be going to Toys R Us looking for Tama's. lol
Thank you so much for everyone who helps, I'm sure you can tell I know very little about these things despite playing them for a couple years xD
Edited by jess32247, 17 May 2013 - 08:57 PM.