Hi friends
 I thought I'd post a log so I could share my daily surprises and also archive them at the same time. 
Unfortunately I am in the middle of a few Tamagotchis, but better to start now then never, right?
... 
Anyway. Here are the three friends I'm raising now: A P2, V4*, and an Umi no.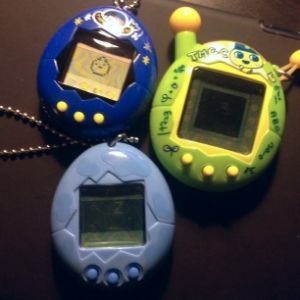 Unfortunately most of these nerds are sleeping right now. I currently have an Otototchi, an adorable Harutchi, and a Tonmarutchi. I'll be sure to post a picture once they're all awake!
I'm hoping that my "V4" survives. Originally I bought it as a V4.5 to replace a V4 I bought from Hong Kong. Unfortunately the paint rubbed off on the original V4, so I bought the V4.5 and basically played surgeon and switched the insides. Having said that, I've already chipped it some paint somehow! Let's see how long I can keep this guy maintained before I box him up! 
As you know, my V4 is a Harutchi. His name is Poof, and has one training bar. I have no idea what he'll become next, as I barely remember raising my V4. I'm excited!
My Ocean has been with me for the last two months. I can't seem to put this guy away. I've always wanted one as a young whippersnapper - I suppose it may be a reason why I can't let go of him! So far I've gotten a Keropyontchi, Kaitchi, and Ningyotchi. I'm aiming for the whale next, but I'll be happy with whatever he becomes! I've been letting him become a bit rebellious by ignoring his many discipline calls, so hopefully that'll impact what he becomes.
My P2 is a Tonmarutchi named Merkle. I hatched him along with the Father's Day Group Hatch that I started. I have hopes for him to become either a Mimitchi or a Nyatchi. He has been very easygoing so far! 
That's all to report now.
If you're still reading, thanks! See you all soon!