As school approaches, unfortunately my updates are slowly being posted further and further apart from each other. I do apologize!
So, Papatopatatchi transformed into an adult!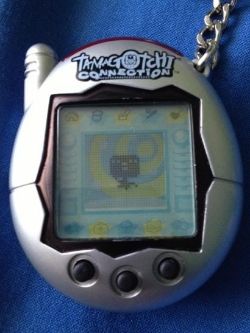 I guess I took pretty bad care of Patopatatchi for her to transform into one of the worse characters out there. She had full discipline, but as it turns out, I neglected her a bit more than I thought! I was secretly aiming for a Hanatchi - but I guess next time I should keep better track of the hearts. I should maybe pull out my V1 again - that's how I'll get one for sure!
Hanatchi was one of my favourite Tamagotchis on the V1. I still remember buying my lime green matrix Tamagotchi at the grocery store. I was out shopping with my aunt and my cousin, and we decided to stroll in the toy area. I remember hearing about how Tamagotchi was making a comeback, but little did I know that it was already released! It was such a surprise when my aunt decided to buy both my cousin and myself a Tamagotchi. 
My first Tamagotchi was a Mametchi. Her name was Rinoa, and if I remember correctly, she ended up marrying a Kutchipatchi. The following generation was a boy, who later became a Mimitchi. I think at one point I had about 29 generations. Unfortunately my original save data did not transfer over. Luckily I still have it kicking around!
Anyway, enough stories from memory lane.
Remember how I started a Tamagotchi Ocean? He's doing quite well. He made a few Digimon friends along the way!
I started up a few Digimon to help me bear with waiting for my Digimon in the mail. I dug out my D3 and my V2 Digimon Mini. Notice the egg? My mini ended up hatching into a Pabumon, before shortly transforming into Motimon! Long story short, after once again digivolving into Tentomon, he finally ended up as a Kentarumon. I definitely neglected this guy, but I wanted someone other than a Kabutarimon for once!
As for Otototchi, he eventually became a KeroPyontchi!
Unfortunately, he didn't strick around for very long, hence the angry expression. I kind of tabbed him as soon as my Digimon arrived
My Digiegg became a cute little Botamon. 
I decided to take a little photoshoot with him. He's been doing great! After about an hour passed after hatching, he became a Koromon. I did neglect him a little bit so he could become a Betamon. I woke him up during bed and let him call for help a few times! I'm a terrible owner... I'm aiming to get Darkmon!
When I woke up just today, he Digivolved!
There he is in all of his glory. I made him battle a few times with Patamon on my D3. After draining his entire energy bar, he had a win rate of 50%. I wonder if he'll become a MetalGreymon?
I'll have to update you all if that ever happens!