first over all Data Carddass (データカードダス Dēta Kādodasu?) is a series of Japanese arcade machines created by Bandai, which largely focus around the use of collectible trading cards. It is an expansion of Bandai's Carddass collectible card series, which allows players to use special cards to interact with games. Many of these machines revolve around various anime franchises owned by Bandai.
Data Carddass make use of special Carddass cards with data stored on them. These collectible cards can be read by various Data Carddass machines in order to interact with the game. For example, in Aikatsu!, a game revolving around fashion, players can scan cards featuring various clothes to make their character wear them. Depending on the machine, cards can either be inserted via a slot or scanned via a flat panel. Each machine is also fitted with various controls unique to their specific minigames, such as buttons which require timed presses or touches. Performing well in these games can also grant additional cards. Select machines utilise IC cards, which allow frequent players to save personal data from the games. Certain machines can also scan collectible toys to affect the gameplay.
I just found this app games. but i think this is only in Japan first time release on jul 11,2012
but i just want to share this games and news here is the link for more infomation http://www.appannie....p-happy-cards!/
here for japanese website Carddass Tamagotchi http://www.carddass.com/tamaheart/
Play with the cards on iPhone!!
The Tamagotchi "Data Carddass App" you can play anywhere makes its debut!
Use your iPhone to scan the Tamagotchi card, and watch Tamagotchi appear!
Use food cards and watch Tamagotchi make progress in a variety of jobs!
When the Tamagotchi graduates, it'll look for work in the town. Foster many Tamagotchis and develop the town!
This specialized application is used to scan and play with the following cards sold by BANDAI:
■Data carddass "Happy with cards! Tamagotchi! Tama Heart Collection!"
■Data carddass app Happy with cards! Tamagotchi! APP01
*This app does not support data carddass batches 1-4.
In order to fully enjoy this app's features, the above cards are required.
Check here for information on where to buy the cards and the latest product information!
http://www.carddas.com/tamaheart/
*Even if you don't have any cards on you, you can foster a Tamagotchi using the "Trial" feature.
*The "Trial" feature can be started from the "Trial" icon, through the top screen→Scan Card→Menu.
*Other points of caution
・Supported platforms: iPhone 4, iPhone 4S, iPod touch(4th)
(Update to iOS4.3 or later is required.)
If you have any trouble scanning the card with iPod touch(4th), you can enter the card ID instead.
・To parents or guardians - When playing with children, please play together.
©BANDAI・WiZ/TV TOKYO・2011Team Tamagotchi TV
©BANDAI・WiZ 2004 ©BANDAI 2012
here some picture for Tamagotchi carddas on iphone or android 
Use your iPhone to scan the Tamagotchi card, and watch Tamagotchi appear!
here is official commercial from bandai japan
and this is arcade machine that we can connect our tamagotchi p's on this machine
there is tamagotchi character that looks like arcade machine data carddas on anime
Tamastetchi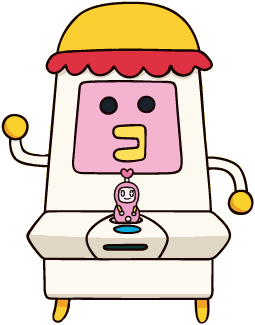 amastetchi (たまステっち Tamasutetchi) is a female Tamagotchi character. She is normally used for the Tamagotchi Carddas games, and first released on the first Tamagotchi Carddas game back in 2007, in Japan.
Personality
Tamastetchi can find any Tamagotchi character in her book full of Tamagotchi cards, one card representing one Tamagotchi character in the book. When you want to find someone, you ask her and she will get the card of that character out of her book, and call the person on her Terulin like cellphone. Then she will give you the cellphone to talk to the person. Similar to the 2009 - 2011 Tamagotchi! Carddas game.
Appearance
Tamastetchi resembles the Japanese Tamagotchi Carddas vending machine. That is used for the Cardass Tamagotchi game based on the TV anime show, Tamagotchi!.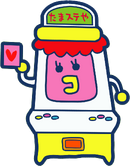 Past appearance from 2007 - 2008.
Past Appearance
From 2007 till the release of the TV anime show, Tamagotchi!. Tamastetchi's appearance resembled the past first and second Tamagotchi Carddas vending machines. But when the TV anime show, Tamagotchi! released. Tamastetchi's appearance changed with only one button, and an added Terulin cellphone to talk to Tamagotchi characters. Her hat was also changed along with a few tiny details.
Edited by HopeMcCarthyAuroraLovingtn, 28 June 2013 - 07:59 PM.