Welcome to my first log! I'll be recording my v4, v4.5, and eventually a Music Star/ID L/some random odd pets. I hope you all find it somewhat entertaining! Feel free to pm me with any suggestions, comments, or gripes. If you decide to give this log a lower rating (three stars or below), would you mind messaging me why? I won't be upset; I appreciate critique. I'm very new to this, so any help is very much appreciated.
So, to begin...
v4.5
A baby girl! I named her Miku and sped over to the kitchen to feed her. After browsing through my choices (which are admittedly rather limited right now...), I finally selected sushi as her first meal. After all, I want her to be a dignified Tama.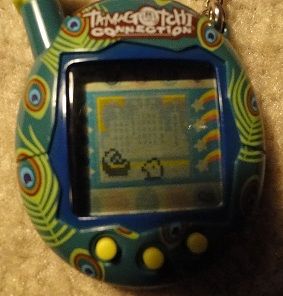 After she swallowed the last piece, I picked her up and threw her into the training room, with...cloud jumping being her first task. She stared down at me with confused, horrified eyes as she floated in the sky. It can't be helped, though. She'll be a healthy, skinny Tama, so no treats for her! Not to mention she needs to work on those Skill points. You want a good job when you're an adult, don't you, Miku?
With the torture...um, I mean training out of the way, I checked on her stats. 7 pounds and a decent start on Skills. Apparently jumping on clouds makes her Gorgeous. Hmm. Perhaps the thinner air is good for her skin? XD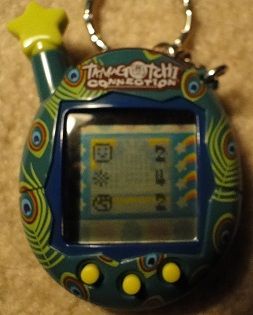 Miku taken care of, I switched to the v4, who will someday be her mate. Yes, I'm setting them up. I'm an awful Tama mom. :3
v4
A boy! Hmm, that's a surprise, yes. It's not like I reset him a few times just to get a boy....nope, I wouldn't do that.
*cough* Anyway, I named him Hei. Tired from taking care of Miku, I threw open the kitchen cupboard and grabbed for the first meal I saw: cereal. Not even close to Miku's dinner, but it'll do. He doesn't know the difference, anyway.
Hei gobbled down four bowls of cereal and looked up at me with huge eyes, licking his lips. Looks like the kid is still hungry. Miku wasn't allowed any treats, but...gah, how can I say no to that face? I fed him two tarts, which he scarfed down in no time at all. I let him rest for a couple of minutes and then handed him a jump rope. He skipped over the rope two times, then fell flat on his face. He curled up into a little ball and cried.
Three more attempts and he finally succeeded. After all the work I put him through, I figured it was time for a reward. I plopped a bowl of pudding by him, and his face brightened up immediately. I couldn't help but feel a twinge of guilt while watching him eat. I gave him three treats, yet Miku received none.
To distract myself, I took a look at his stats. 17 pounds! All that food was catching up on him. His stats weren't as high as Miku's, either, and his intelligence is non-existent.  I'll have to be careful not to spoil this kid too much...otherwise, I'll end up with a lovable idiot.
Edited by Skygryph, 29 July 2013 - 11:26 PM.