===========================
Generation List

Pink & Purple Tama P's - Primary
Gen 4 - Himespectchi ♀
Gen 5 - Kuchipatchi /  Patchin Purin ♂ ♡ Warutsutchi
Gen 6 - Yumemitchi ♀ DEPARTED
---
Phase 2
Gen 1 - Knightchi ♂ DEPARTED
Phase 3
Gen 1 -  Takukotchi ♂

Pink Tama ID LE - Secondary
Gen 1 - Mametchi ♂ ♥  Perotchi
Gen 2 - Girigiritchi ♀ ♥ Shutotchi
Gen 3 - Kuishinbotchi ♂ ♥ Ponpontchi <<UPDATED!>>
Gen 4 - ??? ♀ <<NEW!>>

Black TamaWalkie (Kuchipatchi) - Bonus
Location 1: New York
Location 2: Washington D.C.<<NEW!>>
---
<<UPDATED>>
Total Steps Taken: 13597
Distance Remaining to Next City: 6471
===========================
News:
Expected Deliveries:
V3
Fairy Change Pierce
More deliveries today! Yahoo! I've received my V5.5 and a brand new V4. I just noticed that both of these Tamas have the same colors, but inverted. I'm not a big fan of the V4's shell design, but I care about playing with the toy more, plus it was a bargain. I don't have a choice in the matter for pretentious color choices except when I have money to waste.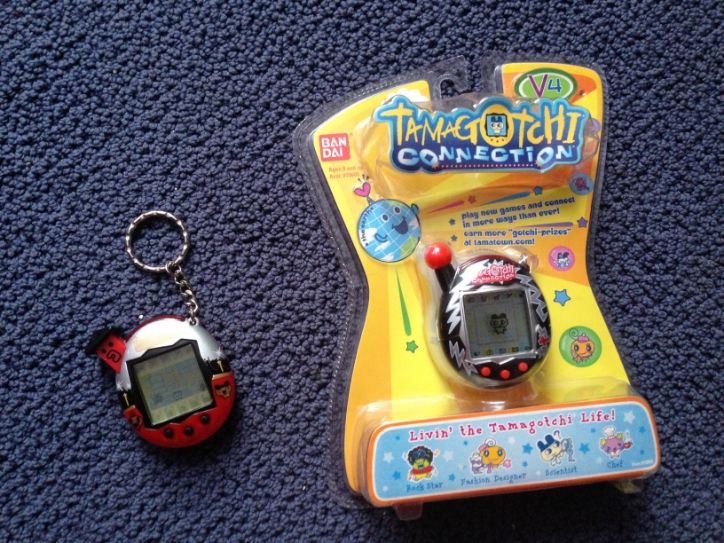 See Mametchi and Memetchi strut down that runway. Where's Kuchipatchi?
Pink & Purple Tama P's - Primary
Cosmotchi -----> Takutotchi
My initial plan after losing my neglected Knightchi was to simply raise another one. Unfortunately, I received a different Tama, a Takutotchi. The more and more I look at him, though, he's actually pretty cute. I know he's not wearing a Santa hat---even though it looks like one--- but it does liven up his cuteness factor. But hey, I have an even better piece of headgear he'd like! It also unlocked his second Puzzle Piece, so both of us are happy. 
Right now Takutotchi has three PP and we're awaiting the last one.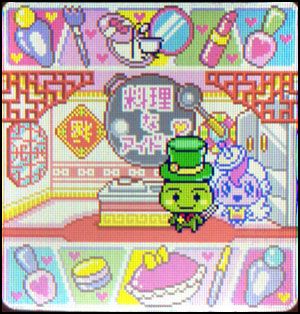 Less Santa, more Leprechaun!
Pink Tama ID LE - Secondary
Kuinshinbotchi ♥ Ponpontchi = Momoroitchi -----> Paletchi
It was time for the 11-year-old Kuinshinbotchi to marry the female Tama of his dreams. The poor guy has been waiting so long. If it hadn't been for Knightchi sudden departure, you could have been married, and have a kid. I mustn't delay his destiny any longer!  We go to the matchmaker and admire all the pretty ladies available for marriage. Kuinshinbotchi is just too adorable when he blushes.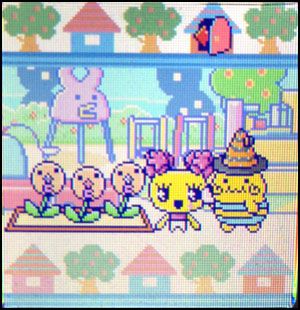 So adorable! Ponpontchi loves looking at flowers!
Fireworks explode, then another baby girl Momoroitchi is born. So far the pattern in the Generation List is: Boy, Girl, Boy, Girl. It would have been nice to have another boy to break monotony, but girls aren't bad, either. I can dress them up in dresses better than male Tamas anyways. We all saw what I accidentally dressed Kuinshinbotchi up in that time before...*shiver* 
The best father and daughter couple ever!
Paletchi and I decided to play our new downloaded game "Hallows". It's eerily similar to the Cut Case game for the P's, but it doesn't drag on forever and ever. In this game, you are King Gotchi handing out Halloween treats to children while driving your orange car. Ocassionally your Tama Cat minions will take bags of goodies from somewhere off screen and gets loaded into the car. Children in nonthreatening witches' costumes approach and ask for your bags of gold, or whatever are in those bags.
Be grateful he's leaving his hole of a throne to entertain the kiddies.