News:
Expected Deliveries:
V3 (still waiting Dx)
V4.5
After what feels like a month ago (but actually only took 6 days), the USPS tracking status for my V3 finally got updated and it's currently in-transit. I had to contact the seller to see if they really mailed the package and not just printed the postage. I don't know whose fault it is: is it the post office or the seller's? I don't want to give bad feedback based on conjecture. The seller did get back to me and that they'd check into the package, so I guess that's a plus.. However, I had to pay up the nose for Priority Mail shipping. I really didn't need my Tamagotchi THAT fast...*sigh* I just want my V3 to be in immaculate condition...or at least close to it.
I was at my wits' end whether to spend an exorbitant amount of money for a NIB V4.5 or bite the bullet and trust someone with selling a used one. I had to settle for the latter because like hell I'm spending way more than what the toy is worth. Again, I'm crossing my fingers at the condition of the Tamagotchi. From the pictures the shell looks pristine, but the screen has fabric hair and debris all over it. Does it have scratches on the screen? How does the back of the toy look? All I know is that it "works great". Gee, what a way to describe your item, eBay seller; your buyer terms are longer than the actual description of the item itself. I only got it because it's probably the cheapest I'll ever buy a V4.5 since its first release.   
Pink & Purple Tama P's - Primary
Takukotchi
Currently Takukotchi is at 10 years old. I would have married him off if not for an idea I had involving my ID LE: maybe he should get together with Shigurehimetchi? I think they would look great together and Takukotchi can go meet his future child over at their house for breakfast/lunch/dinner! It's not possible to see Takukotchi in the ID LE otherwise, or is it not possible for Takukotchi to show up since he's from the P's? Gosh darn it, now I definitely have to find out...
For the moment, though, Takukotchi is just chilling and wearing his dirty Riddler outfit inside a dirty house.
I guess I better do something about the filth...
I'd love to change my next gen Tama to wear something festive for Halloween next week, but there are no clothes! Well, except for the "leaves dress" that Tama-Ps released today as a festive outfit...I don't think a male Tama would like it, though. I suppose I gotta do more ID L to P's conversion again...too much work...Ugh.
Geez, I better stop ranting.
Pink Tama ID LE - Secondary
Shigurehimetchi
Her happiness meter decreases a lot when she's not fed tons of snacks. It makes the bar go up faster, sure, but she gains a ton of weight in the process. Her two favorite toys gets her chipper again; any other toy would increase maybe a fraction of the meter. Allowing her to play the same two toys over and over again is so boring. Playing the mini-games also takes forever for happiness to grow, but at least she burns off the weight from the sugary sweets.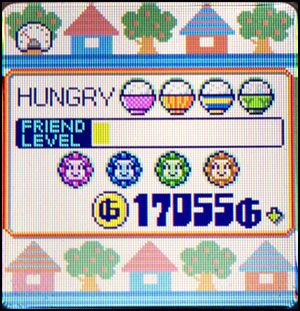 I took this picture yesterday, then got the bar to nearly full.
It's still pretty much the same today.
I've been neglecting gardening. I need to download new seeds to my ID LE. I had planted a Vegetable Seed and out popped an eggplant yesterday. I then planted a Cookware Seed--another download--and harvested a "Cook Set".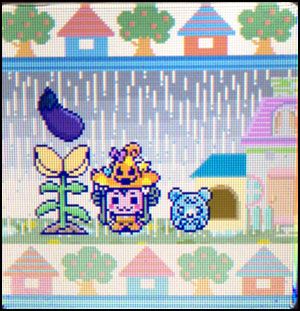 It IS an eggplant, right? Veggies scare me.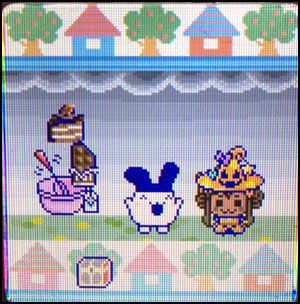 The same animation for her two favorite toys. Ironic?