Generation List:
News:
Expected Deliveries:
Anniversary Pierce
Disney Mickey & Friends Pierce
Aikatsu Dream Academy Pierce
Christmas Edition Entama
ID L Princess Spacey
Uratama
Happy Holidays!
Long time no see, eh? It's been quite a while since I last logged in. I have been slacking quite a bit. Many things have happened outside TamaTown (aka the real world), but despite my lack of diary-logging, my Tamas have been trucking along---slowly, but still trucking.
Okay, what did I get in the mail lately? Well, my second Uratama arrived a few days ago. It arrived a day or two after I purchased it on eBay. Priority shipping plus seller's location (same state in Florida) equals fast delivery. I could have saved several bucks and request cheaper shipping from the seller. Eh, too late now. 
Its condition is standard and has definitely been used: screen is scratched, the letters T, G, and C in TMGC on the star charm are faded (The C has vanished entirely), and a yellowy, pasty stain hugs the antenna base. Still, isn't the shell design attractive? Thankfully that hasn't faded.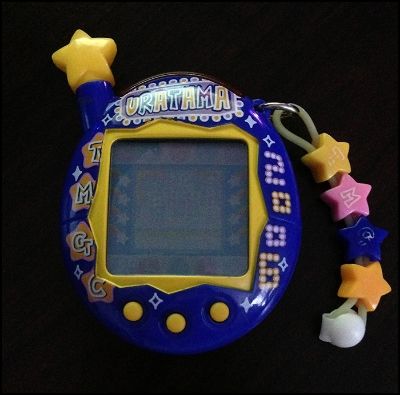 It just screams, "Look how bright and flashy I look! Put batteries in me NOW!"
Since I wasn't able to post the pictures last entry, here are some pictures of the Tamas I bought from Odds and of my Tama "bag":
Spoiler for large pictures!
***
Purple Tama ID L 15th Anniversary - Primary
=== Generation Hatch ===
Generation 6
Hyurutchi ♂ ---> Daiyatchi ---> Kujakutchi ---> Rednosetchi
Still alive and kicking! His pet is Harapparatchi (or that green pet with a leaf atop his head).
***
Red Jellybean Tama Connection V2 - Secondary
___________________
Dina♀
Age: 7
Weight: 72 lbs
3201 Gotchi Points
8/9 Training Points
___________________
I had my V2 active for a few weeks now. It was around 5 or 6 years old when my Tama died on me. I left it on the ottoman upstairs while I was somewhere else in the house. Several hours later, I realized I didn't have my V2 with me, so I went upstairs to retrieve it. Lo and behold, my Tama went into the great big green Tama Planet in the sky. I think it was a Kiwitchi?
The new egg I hatched for Phase 2 was a girl. I named her Dina. She had transformed into an ugly-looking Kusatchi (the ID L Anniversary sprite thankfully makes her look less ugly). Currently I have a baby boy bouncing around with her on the screen. If memory serves me right, Kusatchi will leave tomorrow morning. I managed to keep the first generation alive for a week, so here's to another successful generation!
Edited by PrinJess, 23 December 2013 - 09:15 PM.