I HAVE RETURNED!
11/3/2013
I have reached a point in my life where I think I can start logging again. I'd like to log through Christmas, at the very least. Over the past few years, I've had ups and downs, broke up with a longterm boyfriend, met the love of my life and moved a few towns away. Gotten promotions, and experienced general life. Tamagotchi's went with me off and on. I got back into them again about 8 months ago and picked up a blue V2 connexion off ebay. I put them away and then about two weeks ago had that urge. That TamaUrge!! ANd then I ordered my Osuchi/Mesuchi pair, which arrived yesterday. I'm raising five of my tamas at once right now, after activating them last night.  :jump:
Osuchi/Mesuchi
I want to start with my current pride and joy. I've been wanting this set in my collection since I was ten years old. I'm leaving for a business trip today and hadn't expected these to arrive until I was gone! it was a surprise to find them in the mail yesterday! Sadly, I stripped the screws terribly and me and my boyfriend spent about an hour trying to get the backs off but still keep them intact. We managed and later that night I put new batteries in them and started with the two poop babies. I wasn't expecting these tamas to be the same size as the connections! Also, the game is weird to me. The tama always holds up the same flag. Anyways, Mesuchi and Osuchi are perfectly in sync down to the second and they're both Mohitamatchis this morning. [br]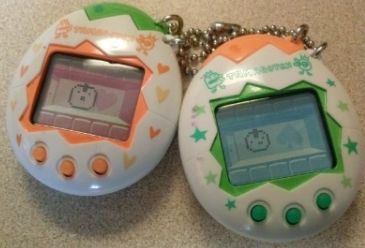 [/br]
Red V3
Name: Bucci
Age: 4 yrs
Discipline: 8/9
Generation: 7
Gender: Boy
This is the first Leaftchi I've ever achieved! I hadn't raised my V3 in a few years until this generation. The games can get so time consuming. I think that's why I've never really given the V4.5 a shot, it's games are a nightmare! I'm probably going to pause Bucci when he reaches mateable age tomorrow until I need a male for my blye V2 to mate with.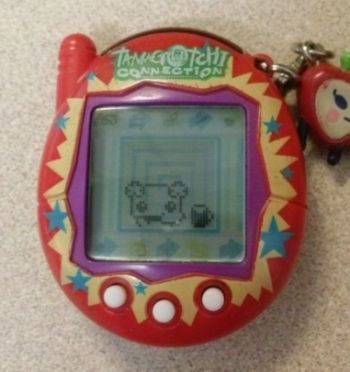 Pink and Blue V2
I love the V2's! They are probably my favorite generation of Tamagotchi. I enjoy the games (minus bump, whom I still don't understand) and I adore the simplicity. It's very hard to achieve all the characters and I'm often very surprised. I'm doing an experiment on my Blue V2. Currently I have a fifth generation boy named Melvy. On this V2, I am never going to use the matchmaker and see if I can just continue to get a stream of good characters. I'm a beleiver that if you mate low level characters on the V2 and V3, you end up with a stream of low level adults. Melvy is currently a UFOchi (that might not be correct...) age 2, with four discipline bars. Her parents were a Bunbuchi and a Kubutchi, so we'll see. Melvy's mate is my V2. A female Hinotamatchi named Pip (Generation 2), who is also two years old with four training bars. I don't remember Pip's parets, but I think they were bad care characters. They should both be adults on Tuesday!