Since I have a Random Sudden Obsession with Moriritchi, here's a poll. Do you prefer Moriritchi with her ears tied up in a beehive hairstyle or down?
Up: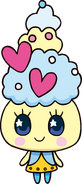 Down: 
I like both but for some reason I prefer her hair tied up...she looks cuter with that crazy hairstyle
Plus she doesn't look like a dog that way
I don't like dogs much oops.
What do you think? :3