I've been making some cases for my tamas and there aren't a lot of free patterns out there so I thought I'd share.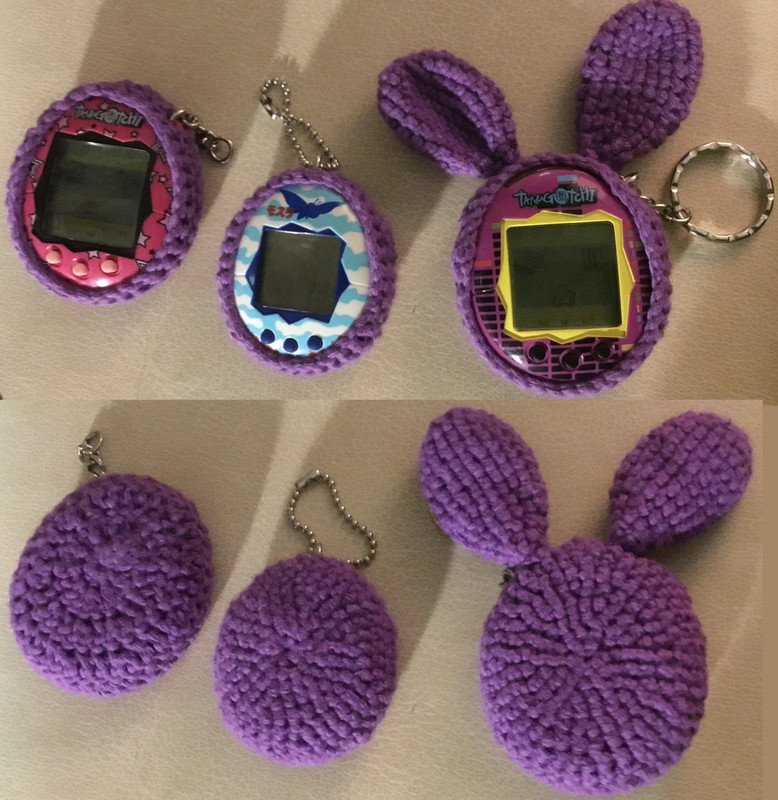 Basic principle, crochet a circle until if fits the back, make the sides, then finish off with a slip stitch.
You may want to randomise your increases to get more of a circle shape or stagger them i.e. instead of starting with a 2sc followed by 4 x sc, do 2 x sc first, then continue the (2sc, sc, sc, sc, sc) pattern because if you increase in the same spot, you'll get a hexagon shape.  I recommend using a cotton type wool and I used a 3.25 mm hook.
Connection models (half double crochet) (Pictured on the left)
Magic loop with 10 starting sc (10)
2hdc in every stitch (20)
(2hc, hdc) repeat (30)
(2hdc, hdc, hdc) repeat (40)
Hdc around (36)

You want to work 4 decreases in at the points marked in the diagram
For a keychain hole - ch 2, skip one stich and hdc in the next stitch
For an antenna hole just chain 3 (or more) and skip 2

Slip stitch around to finish (36)
Bunny ears
Magic circle (6)
2sc in every stitch (12)
2sc, sc (18)
Sc (18) for 6 rounds
Dec, 4 x sc and repeat until there are 6 stitches left
Bind off leaving a long tail for sewing.
You'll have to join with a couple of stitches to support the weight of the ears.
Vintage models (single crochet) (Pictured in the centre)
Magic loop (6)
2sc in every stitch (12)
(2sc, sc) repeat (18)
(2sc, sc, sc) repeat (24)
(2sc, sc, sc, sc) repeat (30)
(2sc, sc, sc, sc, sc) repeat (36)
(2sc, sc, sc, sc, sc, sc) repeat (42)
4 hdc, dc, 4 hdc, dc, 2 hdc, dc, 4 hdc, dc, hdc to finish the row (38)
6sc, dc, 4 sc, ch 3, skip 1, 4 sc, dc, 6 sc, dc, sc to finish the row
Slip stitch around to finish