Joined

Mar 28, 2015
Messages

189
Reaction score

317
In the past 
I've gotten confused
 because I didn't understand the distinction between "fakes" and "generics" that people make here. I think I understand it now: if a console's packaging explicitly claims to be Tamagotchi, it is a "fake", if it does not, it is a "generic virtual pet".
This is naive and out of touch with reality.
The companies and governments responsible for distributing fake Tamagotchi consoles successfully propagandised that "Tamagotchi" isn't a name, but a generic term. Today still, most people are surprised if they discover (or even refuse to believe) that Tamagotchi is an actual franchise made by Bandai Namco, and not a generic term for crappy LCD toys that beep and depict gravestones.
If you ask for Tamagotchi in a store, large chance they'll hand you a fake ("generic") console, assuring you that it's what you're looking for despite it not saying "Tamagotchi" on the packaging (this happened to me as a kid, thank goodness I discovered the real thing later). Proving that a physical store does it would have required going undercover, but online stores have to do it in the open. Example from the largest Dutch retailer: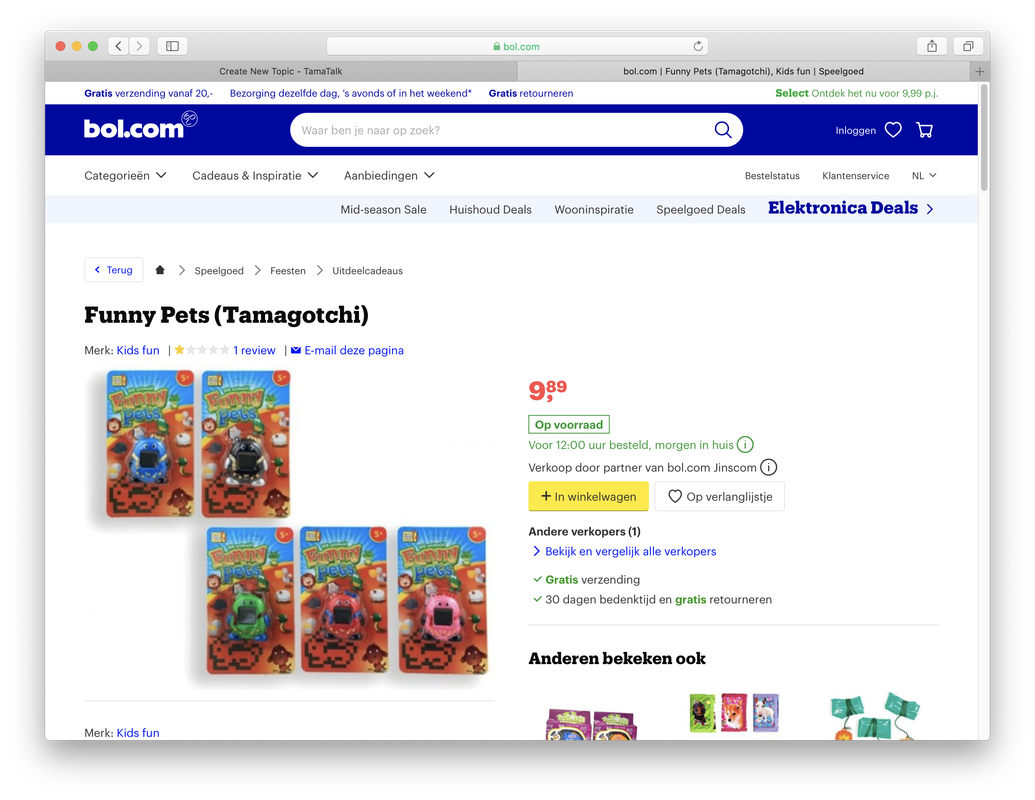 Is this a "non-deceptive generic virtual pet" just because of the packaging? (Also, these things often have copies of Tamagotchi characters in them alongside all the generic animals. That alone makes them clearly qualify as fakes, even if these characters are not shown in advertising. Who even wrote these ROM's that you see reused all over the place?)
This is what killed the Tamagotchi franchise in the west (granted, Bandai Namco not handling the situation as incompetently as possible would have likely averted it). Governments have a hand in this; distributing fake Gucci bags will get you fines and jail time, while no-one ever got arrested for distributing fake Tamagotchi consoles. They likely saw them as a threat to the school system, and basically made them exempt from intellectual property law.
The term "generic virtual pet" should be reserved for products like VTech's KidiPet and Tiger Electronics' GigaPet.