Joined

Jan 31, 2017
Messages

109
Reaction score

134
Location
Hi Tamatalkers!
This is my first attempt at logging in almost 18 months! A few of you might remember me from early 2017 when I logged about my care of eight Connection-era Tamas (link:
https://www.tamatalk.com/IB/topic/194149-log-a-carer-of-eight/).
I must admit, I didn't close it with much context, so I apologise for that. I simply posted the last update and then completely disappeared without any explanation. At the time, work was becoming pretty stressful and that, as well as my eight Tamagotchis, were simultaneously burning me out. I thus paused them with the intention on returning to them sometime later - this turned out to be over a year!
A lot of stuff happened during that time, as I eventually quit my job to study history at University. This took up most of my time until now, delaying my possible return to the Tama world. A few weeks ago, I finally had some free time since my University holidays had started. I went out on a trip and brought my red Version 3 with me, which proved to be a lot of fun. After I came back home, I decided to revive some more of my Tamas. My Tamagotchi fever had returned!
I since stabilised at 5 units, as I decided to put my feet in the water more softly as compared to last time. However, not all of these are familiar shells! My working collection had somewhat expanded recently, which I will demonstrate a bit later. I also returned to TamaTalk a few days ago to see how everyone was doing. It turned out, not many of my 2017 cohorts were active! I guess everyone has to have a break at some point. It was great to see new faces around in the forums, though.
Three of my five running Tamagotchis have continued from where they left off, whereas one (my Version 3) was reset, as I wished to start it again as a baby for my holiday trip. The final one will be a surprise! Since I've run my Tamas for a few days now, I'll give all of them a recap as to what they've all done since I revived them.
Beryl: Red Wing Pattern Version 3
​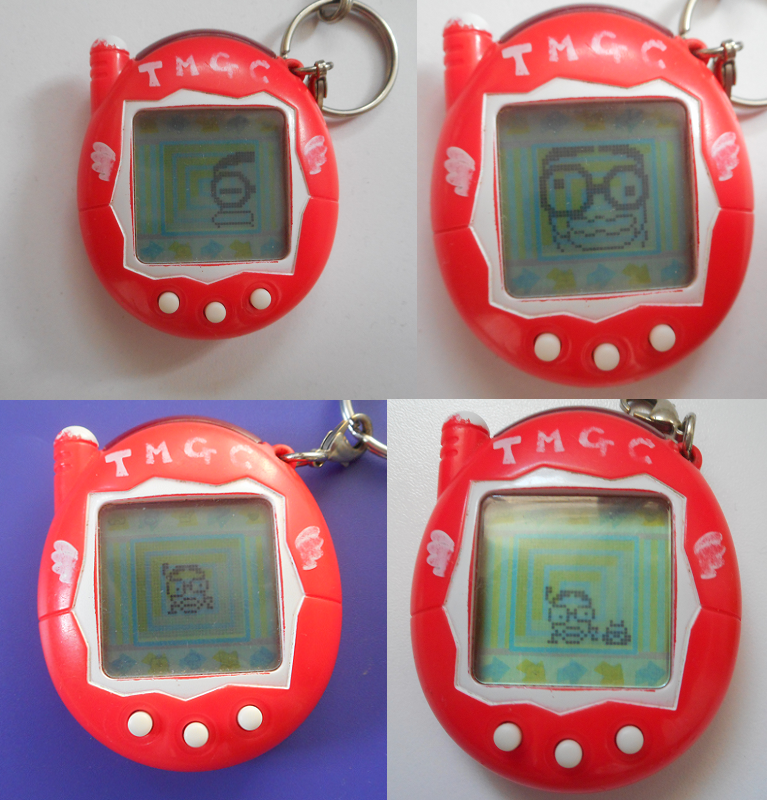 As outlined previously, the Version 3 was the one I restarted first. Whilst on the train to my holiday destination, I passed the time by hatching a new egg. I named the baby girl Beryl and mostly raised her during the holiday. It was very fun to have something to look after whilst journeying around!

Beryl's growth was slow, since I had to leave her paused much of the time. She became a Tamatchi in her child stage and then a Young Mametchi in her teenagehood. Whilst she seemed to be on the road to top-tier adult stardom, I had a large mishap towards the end of my trip when I left her unpaused for a few hours unwillingly. All her hearts were empty and she even got sick!

She was still a teenager when I got back home, and I was curious as to what tier she would end up in as an adult. Turned out that she landed in the middle tier! I was honestly surprised at this, thinking that she would end up on the bottom, but I guess that demonstrates how forgiving the Version 3 can be. I'm sure that I'd end up on rock bottom if the same happened on a Version 2. But regardless, Paparatchi was an entertaining result. I haven't had it since I was a kid, so perhaps it was a good thing that my care slipped up!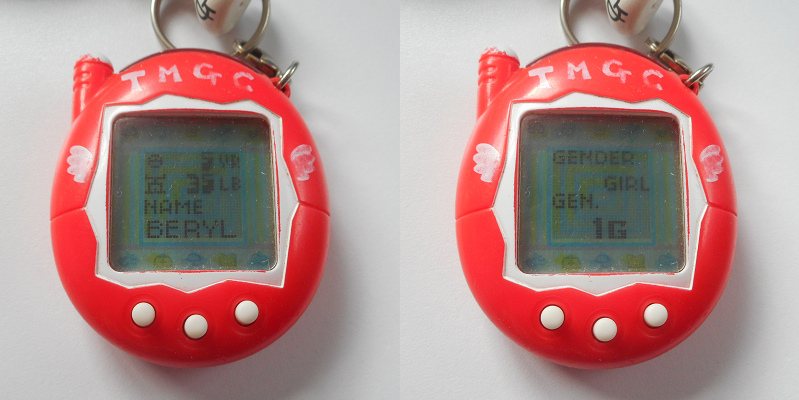 Beryl got the Matchmaker this morning, being paired with a Debatchi. As a result, she got a baby boy! Beryl will probably hold a special place in my memory after she goes, since she was predominantly raised out of my home, and I thus remember her alongside many nice locations. She will probably leave her baby tomorrow night.

The other day, I also fixed the horribly insensitive buttons that plagued me last year. I opened the shell to find that the button contacts were very dirty; a good clean made the buttons work almost like new!
Valma: White & Rainbow Version 4
​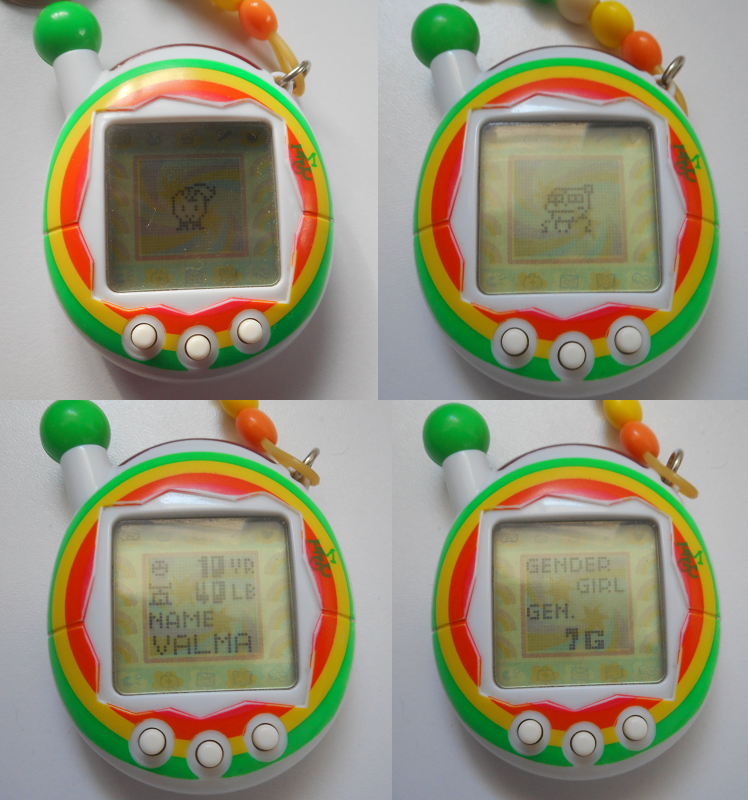 Some readers who remember my old log might find Valma familiar. She represents the seventh generation on my white & rainbow Version 4, a lineage which started back in the beginning of my old 2017 log. From the start, I aimed for Valma to grow into the Senior stage so that she would break a personal record of mine - the "oldest parent". Essentially, I aim for her to live for over 90 Tama-years before marrying her off! I doubt this will actually break any records (I'm sure someone else did it over the age of 99), but I won't do this since I can't reliably count the Tama-years once the 2-digit age counter becomes useless. I pause my Tamas a fair bit, so the age counter is the only way I can keep track. Regardless, getting a 90+ year-old parent will still be an interesting challenge for me to partake, and a very long one at that!
Valma's white Version 4 was the only Tamagotchi of mine to actually hold its charge since I paused them all in mid-2017! I only needed to unpause her to pick up what I left off; however, the battery did run out after two or so days, so I put in a new one after that. Still impressive nonetheless!
Valma had a lot of Meme family DNA in her, a fact reflected in her evolution path. She evolved into Puchitchi, then Young Memetchi, then finally Ponytchi. When I restarted her, she was 6 years old and was receiving Matchmaker visits. I kept her as a bachelorette, and before long she became an Otokitchi! I'm going to get used to this character before long. Valma's age is currently at 10, so I'm only a fraction of the way through my journey!
The white Version 4 is the only Version 4 I'm currently running, the reason being that I find this version's growth system to be difficult at times. I've also gotten almost all the characters in these, and they are still fresh in my mind from last year. Given that I have an Otokitchi running on this one, the Version 4's growth system won't be at play here.
Josie: Globe Pattern Version 4.5
​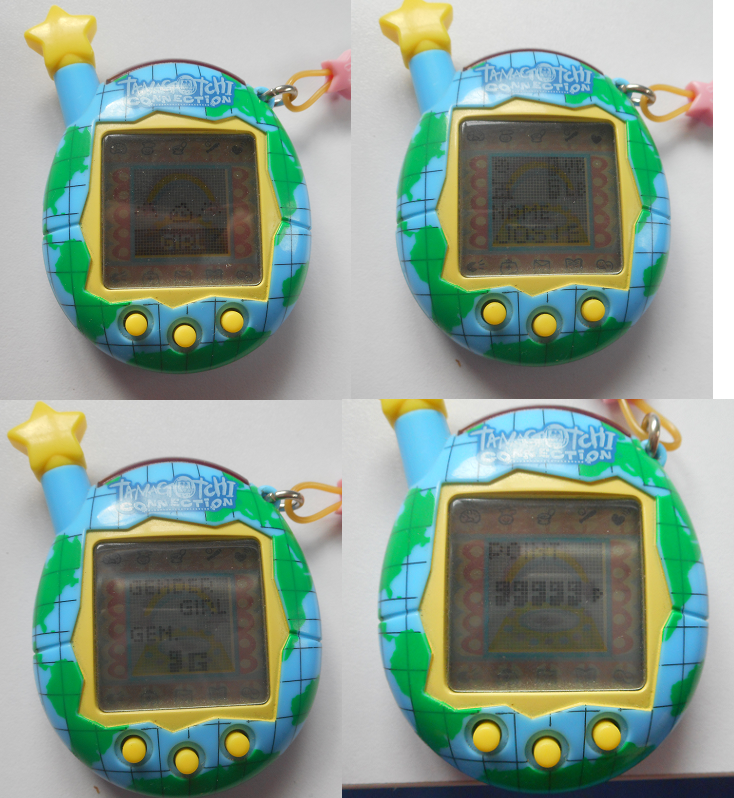 This Version 4.5 is also continuing from where it left off, though this particular generation was not seen in my last log. Josie's mother was named Sae, and was last seen on my previous log as a 6 year-old Ura Violetchi. Shortly before I paused her for good, Sae had a baby girl from the Matchmaker, and when re-activated was found in the "parent" stage with this baby. She left that night, and I thus cared for her daughter.

With Josie, I tried an experiment to see if I could activate the "family switch trick" with any other adult character that is not one of the Ura Mascots. This unit's first generation was a subject of this trick, turning from a Daiyatchi to Ura Kuchipatchi from having about 180 Spiritual points; whether this could be done with any other character, I did not know, hence my experiment with Josie.

Josie's points had maxed out at 99,999 by her child stage! Luckily, a UFO appeared in the Shop during the same day, costing 25,000 of them (The shop was on sale). So luckily I now have some room to gain more points!





Josie was Hitodetchi as a child an an Ura Young Marotchi as a teenager, putting her into the Ura Mame family. Since I was best at the Man-Hole game, I decided to raise Spiritual points. By the time she turned 3 years old, Josie had about 180 Spiritual points, and became a Shitekitchi, a member of the Ura Kuchi family. In that case, the family switch trick must work in all cases!

Josie is still 3 years old, so she still has no job. That should happen shortly, however.
Nola: Green Flowery Version 2​

Yes, my pseudo-broken, ratty Version 2 is one of them! I downloaded my previous progress on this one as well, ending up with a Kuribotchi named Nola. She was the daughter of Ramos, a Mimitchi that appeared at the end of my previous log.

I didn't do any special experiments with Nola, so I just gave her good care. Her teenage character was UFOtchi. There were a few times when her hearts dropped to two in her teenage stage (one happy heart even, on one occasion), so I thought she'd eventually become a second-tier adult.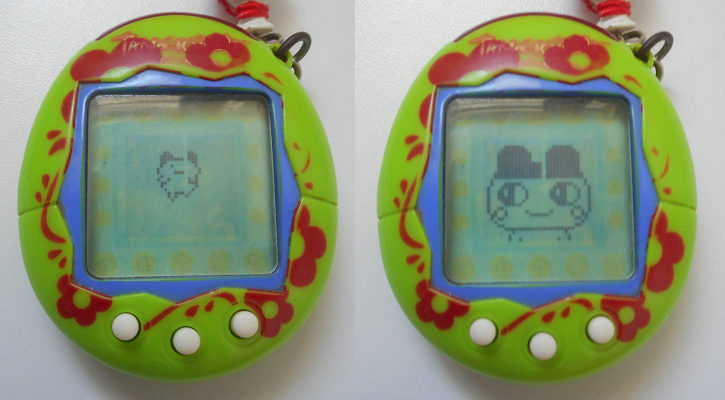 ...Nope! I gave perfect care, apparently! Regardless, I welcomed her Mametchi evolution pretty well for some reason - maybe it's just from me liking Mametchi so much generally. Nola's currently 5 years old.
...And finally...
Alex: Blue Flowery Version 2
​
​
​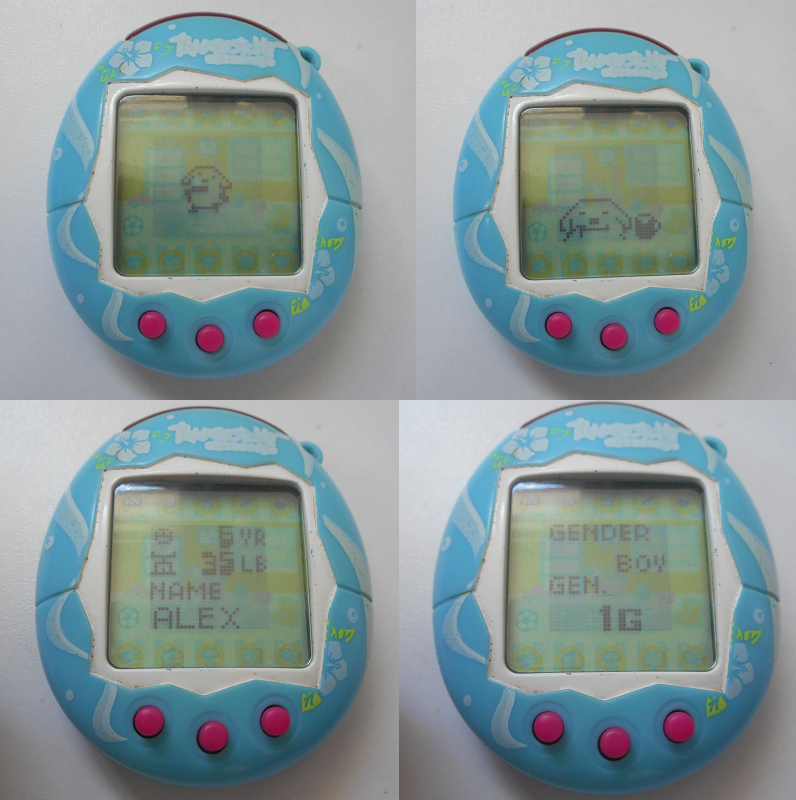 This Tamagotchi hasn't been present in my previous log - in fact, it was laying derelict in pieces until recently. This was initially owned by my sister, who received it on the exact same day as me when I got my green one, pictured above. As a result, I find it to be very nostalgic - it's like the two Tamas are siblings! My sister owned it until she gave it to me in around 2010, after it stopped being able to connect to other Tamagotchis for some reason.

I soon after pulled it apart for use as spares for some of my other Tamagotchis. Indeed, its original buttons are now in the black Version 1 that was in my old log (though now currently stored). Using this shell, I learned about the insides of a Tamagotchi and how it each component worked. Afterwards, I stored it, with various pieces being separated.

I then found most of the pieces in some of my drawers by chance a few days ago. Given how nostalgic it was to my memory, I decided to try and get it working again. I didn't know if it would succeed, given that I had no clue if the circuit board still worked.

There were also some missing parts that I couldn't find, namely the screws, cardboard background, I.R. cover and buttons (the latter still being in my Version 1). After much thought, I decided to use one of my four Version 5s as a parts donor to get this one running. Some Tamagotchi experts may already have observed that the screen background is, indeed, a Version 5 specific one. Given that I already have heaps of Version 5s and only one other Version 2, I personally thought it was worth the exchange.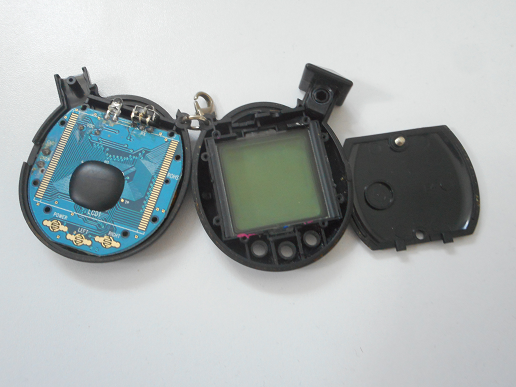 Luckily, the buttons on this black Version 5 were the same color as the blue Version 2's original buttons, suiting it quite nicely. The other parts also fit into the Version 2 shell without issue. However, I made sure that these parts can be transferred back to the donor Tama if I ever decide to do so. I actually prefer the shell of this blue one to my other green Version 2 - the bright colours on this just match so well!

After putting the battery in, I was pleasantly surprised that it worked! There were two issues though - first was that the speaker didn't work due to the lines beings severed; second was that it still couldn't connect to others. Something must be wrong with the I.R. parts. However, the fact that it still works at all is exciting. Given that my green one also has some different operational faults, they really are like siblings!

I decided to continue with the character already stored, which was a 5 year-old Pochitchi named Alex (1st generation). He weighed 99 lb, indicating that he had been fed snacks all his life. He was also quite poor in terms of wealth, having less than 1,000 points in his wallet. I decided to take advantage of both situations by playing Slot over and over again. I learned to win a lot of points quite quickly as I realised that Pochitchi's happy sprite has its eyes close to its forehead, making it easy to spot over the other sprites. By the time I got Alex down to 32 lb, he had over 9,000 points, though I recently got it down to under 8,000 by buying some items.

Since I like Pochitchi quite a lot, I think I'll keep Alex unmarried until he's 8 or 9 years old. I might one day connect the sound back up again, and even see if I can figure out the problems surrounding the I.R. connection. However, for now, it's fine the way it is.
...and that's all of them at the moment! However, I actually will have some more surprises in waiting that will be revealed later on. Hopefully, this will keep my new log refreshed and interesting for some time.
As for future posts, I decided that I'll do a "one-per-generation" approach as opposed to last time. The daily targets I tried to do in my last log eventually overloaded me, so I think it would be wiser to do it somewhat less frequently. A single Tama generation would probably be around a week for me, which would be much more manageable. I'll also have more to talk about with this setup, making my log posts potentially better than before.
Anyway, just one section left... it's time for stats!
Stats for Nola (Version 2, Green Flowery shell)
Hunger: 3/4 hearts
Happiness: 4/4 hearts
Training: 9/9 bars
Age: 5 years
Weight: 33 lb
Gender: Girl
Generation: 11G
Gotchi Points: 6,526
Stage: Adult
Evolution: ShiroPetitchi > Kuribotchi > UFOtchi > Mametchi
Stats for Alex (Version 2, Blue Flowery shell)
Hunger: 4/4 hearts
Happiness: 4/4 hearts
Training: 7/9 bars
Age: 6 years
Weight: 34 lb
Gender: Boy
Generation: 1G
Gotchi Points: 7,912
Stage: Adult
Evolution: Petitchi > (unknown) > (unknown) > Pochitchi
Stats for Beryl (Version 3, Red shell)
Hunger: 4/4 hearts
Happiness: 4/4 hearts
Training: 9/9 bars
Age: 7 years
Weight: 32 lb
Gender: Girl
Generation: 1G
Gotchi Points: 8,478
Stage: Adult
Evolution: Teletchi > Tamatchi > Young Mametchi > Paparatchi
Stats for Valma (Version 4, White/Rainbow shell)
Hunger: 3/4 hearts
Happiness: 4/4 hearts
Training: 8/9 bars
Skill Points: 265 Intelligence / 35 Fashion / 44 Social
Age: 10 years
Weight: 37 lb
Gender: Girl
Generation: 7G
Gotchi Points: 69,880
Stage: Senior
Evolution: Tsubutchi > Puchitchi > Young Memetchi > Ponytchi > Otokitchi
Occupation: Retired
Stats for Josie (Version 4.5, Globe shell)
Hunger: 3/4 hearts
Happiness: 3/4 hearts
Training: 9/9 bars
Skill Points: 57 Humour / 22 Glamour / 196 Spiritual
Age: 3 years
Weight: 21 lb
Gender: Girl
Generation: 9G
Gotchi Points: 83,599
Stage: Adult
Evolution: Tsubutchi > Hitodetchi > Ura Young Marotchi > Shitekitchi
Occupation: School Student (Mr. Canvas' class)
--
Thanks for reading, and I'll see you next time!