Joined

Jan 31, 2017
Messages

109
Reaction score

134
Location
Episode 1
Hello again everyone! Some of you may remember seeing me on this site in around 2017 and 2018. I tend to take long breaks from the venerable Tamagotchi, but I do surface every now and then, and now I'm back! I hope you've been well. In my previous logs, I ran a hefty amount of Tamagotchis (usually around 8 or so) but this time I have a smaller roster. I feel that this will make me less likely to "burn out" so early, like I did last time. It will also make this log easier to write, and will give you less baggage to read through. So I think it's a win-win! My ultimate goal for this log is to keep it sustainable and exciting, so I'll also cycle through my active Tamas from time to time and perform various evolution experiments. I hope you enjoy it!
You might have noticed the unusually specific title of this log; that's because I have an underlying goal to obtain ChoHimetchi on my active Version 2! Why ChoHimetchi, of all things? It's actually due to many reasons. Firstly, I haven't had it on a Version 2 since I was a kid, and I always thought it was a cool-looking character worth getting again. But it's also because it seems to be very elusive to me. I tried to get ChoHimetchi multiple times in my previous logs, but my attempts badly backfired (Most of the time, I landed on the right tier but got the more common Mimitchi instead!). As a result, ChoHimetchi seems to have been an ever-present goal that I have always failed to reach. I feel like Wile E. Coyote or the Team Rocket Trio, and I must settle this, once and for all!
As a result, this log will generally theme around my active Version 2 and the quest for ChoHimetchi, but it will also have some other Tamas with their own experiments to keep things varied. At the moment, I am running four units, which I think provides a decent balance. So, without further ado, let's introduce the gang!
Tamagotchi No. 1: Flowery Blue Version 2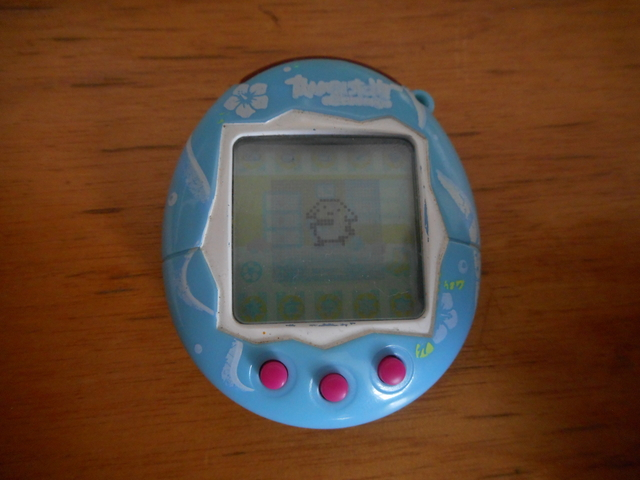 This is the Version 2 that will be featured in my quest to get ChoHimetchi. This shell (which I think is supposed to represent an underwater theme) is very nostalgic to me because it originally belonged to my sister back when I got my first Tamagotchi, which was a green Version 2 that I have stored for now. For many years, this blue Tamagotchi was actually disassembled as a source of spare parts, but I restored it back to working condition in 2018 due to nostalgia. While it functions well enough, its speaker does not work and its infrared system is busted, meaning that it cannot connect to others (thank goodness for the Matchmaker!).

This Version 2 was the first one I re-started after my last hiatus; I did so shortly before Christmas so that I would have something to occupy myself with. I have run it non-stop since then, and it is now in its fifth generation. I had tried to get ChoHimetchi all this time but to no success. Currently, it has a 7 year-old Pochitichi named Dale, who just had a male baby this afternoon. Since ChoHimetchi is only obtainable on even generations, Dale's baby will be my only possible attempt for a couple of weeks.

In order to obtain ChoHimetchi, I must give the baby perfect care (especially in the Teenager stage) since the character is on the topmost tier on even generations. Then, when it evolves into an adult, I must blindly hope that ChoHimetchi is randomly chosen out of the three characters in the top tier. It can be a frustrating process! For my last two attempts (in the second and fourth generation, respectively), I tried to land on the top tier but instead got the middle tier due to accidental neglect. In fact, I actually got Dorotchi both times! So I'd better be very vigilant this time.
Tamagotchi No. 2: Ice Blue Version 4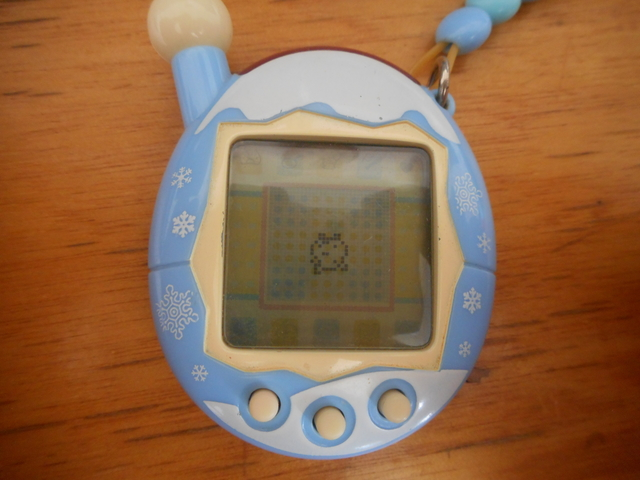 Two of the other Tamas I am running at the moment are Version 4s. The main reason for this is due to an ongoing research project on the Version 4's growth chart, conducted by Maria&Co. and tamaninjacat. See the thread here:
I was very impressed by the headway they made in the research, so I decided to help them! This snowy blue Version 4 (which I have featured in my previous logs) is thus mostly being used to test theories that are being established in that thread.

Currently, this shell has a first-generation Harutchi named Mewtwo, whom I am using to test Child/Teenager evolution patterns. Today, I meant to give him two care mistakes through the Child stage (though instead I accidentally gave him three), and I will see whether this makes him a Mame family teen or a Meme one. It is generally established that Harutchi becomes either a Mame or Meme teen depending on the amount of care, but it is still unknown what exact numbers of care mistakes make what. There are similar mysteries with the Meme and Kuchi families as well, so I aim to help solve these questions in the future!
Tamagotchi No. 3: Sea Blue Version 4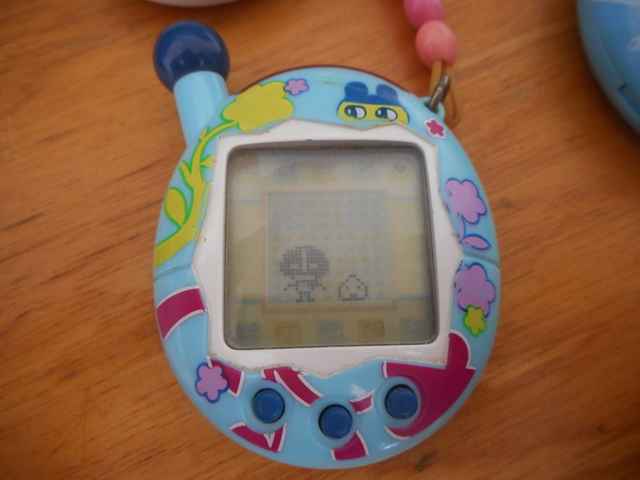 This is the second Version 4 that I'm using for the evolution research project. While I started the other one from a clean slate, I decided to continue this one from where it left off to investigate the prominence of "family genes" in the Version 4. It turned out that the character was a 7 year-old Masktchi named Gina, who was actually all the way back from my first log. She became a Masktchi mostly because I accidentally left her unpaused when away, which led her getting neglected for a day. However, I found this useful for the research because it allows me to test how the Universal family affects "genes" in the Version 4.

Shortly after I had Gina running again, she got a Matchmaker visit and had a baby. Her partner was a Tosakatchi, so I will see if that partner brings Meme genes to the baby in the future. Once Gina leaves, I will experiment with the baby, just like Mewtwo, and report results.
Tamagotchi No. 4: Rainbow Version 4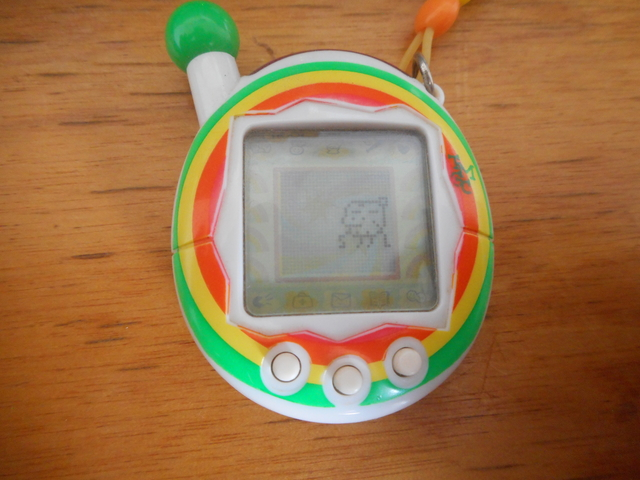 Yes, my final Tamagotchi is yet another Version 4, but it is not being used for evolution research. Instead, it is for another purpose that I have continued on-and-off since my first log.

The Otokitchi in this shell is named Valma. She is currently aged 30 (in Tama-years of course), and I aim to get her over 90 years before breeding her with an Ojitchi. This, in theory, should make her one of the oldest parents of all time (though I doubt it will break the best record - someone has probably had an Ojitichi or Otokitchi breed over the age of 100). Nonetheless, it would still be a good achievement. While I can technically wait until she is well past 100, I do pause her regularly, so I will be unable to record her age after the two-digit counter fills up.

Valma is very easy to care for, though I do give her high priority to make sure she does not have a care mistake. In the Connection series, if a Senior takes care mistakes, they become more and more needy until they die. As a result, I must make sure that Valma does not take any care mistakes during her long run. If care mistakes are avoided entirely, Valma can theoretically live forever. There have been a few times when people have gotten Ojitchi or Otokitchi to live for hundreds of Tama-years!

Due to her age, Valma has an incredible amount of Intelligence points (I usually play Shape when playing on a Version 4). She'd make a Tensaitchi jealous!
Well, that's all the updates for now. Here are the stats of my four active Tamagotchi:
Stats for Dale (Version 2, Blue Water shell)
Hunger: 4/4 hearts
Happiness: 4/4 hearts
Training: 9/9 bars
Age: 7 years
Weight: 44 lb
Gender: Boy
Generation: 5G
Gotchi Points: 6,539
Stage: Adult
Evolution: Petitchi > Hitodetchi > Nikatchi > Pochitchi
Stats for Mewtwo ("MEWTW", Version 4, Ice Blue shell)
Hunger: 4/4 hearts
Happiness: 4/4 hearts
Training: 5/9 bars
Skill Points: 26 Intelligence / 29 Fashion / 15 Social
Age: 0 years
Weight: 15 lb
Gender: Boy
Generation: 1G
Gotchi Points: 3,120
Stage: Child
Evolution: KuroTsubutchi > Harutchi
Occupation: Pre-schooler
Stats for Gina (Version 4, Blue shell)
Hunger: 4/4 hearts
Happiness: 4/4 hearts
Training: 7/9 bars
Skill Points: 106 Humour / 177 Glamour / 26 Spiritual
Age: 7 years
Weight: 22 lb
Gender: Girl
Generation: 7G
Gotchi Points: 62,320
Stage: Adult
Evolution: Tsubutchi > Mizutamatchi > Ichigotchi > Masktchi
Occupation: Baker
Stats for Valma (Version 4, White/Rainbow shell)
Hunger: 4/4 hearts
Happiness: 4/4 hearts
Training: 8/9 bars
Skill Points: 707 Intelligence / 40 Fashion / 82 Social
Age: 30 years
Weight: 31 lb
Gender: Girl
Generation: 7G
Gotchi Points: 52,430
Stage: Senior
Evolution: Tsubutchi > Puchitchi > Young Memetchi > Ponytchi > Otokitchi
Occupation: Retired
~
Well, that's all for now! I aim to post this roughly to a weekly schedule, which will make it roughly once each generation. That will ensure that I have enough updates for each post. But until next time, have fun!
Last edited by a moderator: