Joined

May 5, 2018
Messages

116
Reaction score

41
Location
Hi!! I got my two new Tamagotchi's! I made a video about it because I can, I'm a big goober.
Here it is
. I've actually been doing that for all of my tamagotchi's, but I don't put them here bc sometimes I'll have my face in it and my moving face? mm. Not fond. But I really only have those for friends so they can see me get all excited
Anyways for those not watching the video, I got a V2 and a V3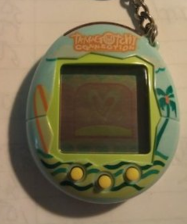 I got a baby girl on the Cherry V3 so I named her Cher! Like. Almost Cherry! And I named the V2 baby boy Adam because I started thinking about vines, oops. So that's that! I'll probably be away from my laptop by the time they grow up so I'll have to post about that when I come back home.
In other news- Gooey got married!! He got married with a Violetchi and had a beautiful baby, pretty sure it's a boy??? I'm not sure what to name 'em yet... I've been playing with them all afternoon, I love em to bits. Excited to have the baby in the morning! If anyone has a name suggestion hmu. Anyways, I'll be going now for a bit. Bye!