Joined

Jun 29, 2018
Messages

112
Reaction score

171
Hello, everyone! I've found some exciting info on the Tamapichi phone that was released back in 1997 by Kyocera. This is a really weird piece of Tamagotchi history, and details in English can be hard to find outside of a few brief articles. There's actually quite a few photos people have posted, so if you want to see more just look up "たまぴっち." For convenience, I've ran some of the text through Google Translate. (
Also, I wasn't able to shorten most of the URLS properly, sorry ._.)
Part of Article:
"

Bandai, the company that sells Tamagotchi, has spawned about seven million of these hectoring toys since last November, and some have even shown up elsewhere around Asia. It's still not enough. Shortages have driven the price of a Tamagotchi in Tokyo to as high as 15,000 yen ($129). Now, the Tamagotchis are launching an aerial assault. Sometime this month, Bandai will begin selling mobile phones that have a Tamagotchi inside -- the Tamapichi.
The phones will operate on Japan's personal handyphone system, the low-priced wireless service that has become the rage among the country's teenage girls. Users no longer will have to watch their Tamagotchi die, they'll be able to blast their tiny beast to another Tamapichi owner's phone, where the ailing creature can frolic with its own kind, feed and regain its pluck. The phones will sell for 45,000 yen. Will these monsters stop at nothing?"
https://virtualpet.com/vp/farm/lleg/lleg.htm#phones]Source
Generic stock photo: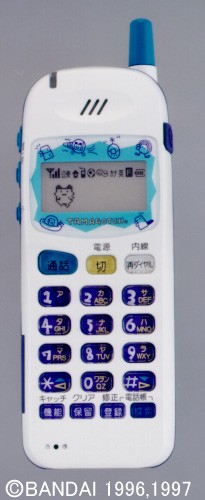 Mametchi!
Here's a comic advert shared by Twitter user @gulico69:
https://twitter.com/gulico69/status/775512464184127490
In the comic, two Tamas can be seen sharing a snack. How cute! They can also just hang out, as shown here: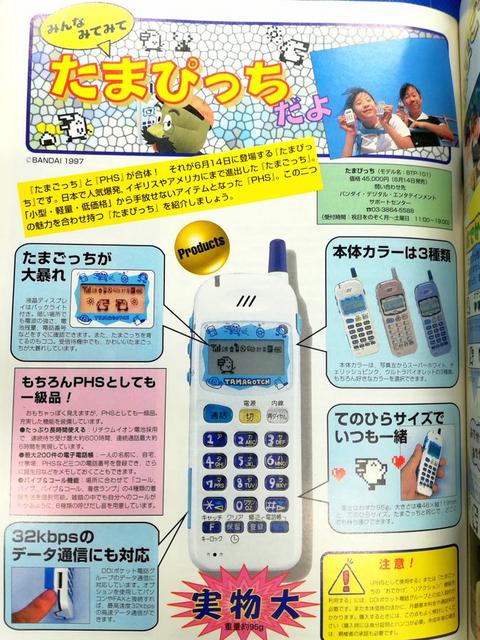 Source
There's also a video of it hatching:
https://twitter.com/korotchi/status/740047518587752449
For more, look under #たまぴっon Twitter and other sites.
Apparently, people could connect their Tamas by calling or texting each other if they both had one. If that's the case, this may be the
actual
first-ever connecting Tamagotchi (since this was released in June '97 a few months before Mesutchi/Osutchi). However, this might mean they're unable to connect without phone service. It also seems that taking care of it also means checking your calls and text messages in a timely manner:
"Tama Pitches" is a rare PHS that DDI pocket has just released with momentum! It was difficult to raise Sugge as the way of growing changed with P mail and incoming! "
A lot of the normal icons/options seem to be missing. All I see are the attention and game icons.
As for characters, it appears to be a blend of P1 and P2.
Some specs: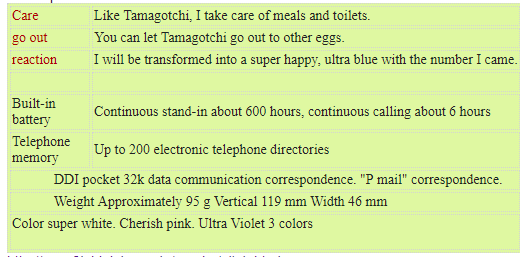 https://www2k.biglobe.ne.jp/~mako/pitch.html
The phone also comes with an adorable little charger with Tonmaruchi and Tongaritchi printed on it!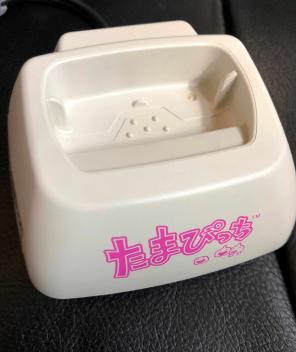 If you want one, check out these Mercari listings:
Listings
But wait- there's more.
There was also a
second
Tamagotchi phone:
It appears that it could connect to an Entama via codes rather than having a Tamagotchi built into it.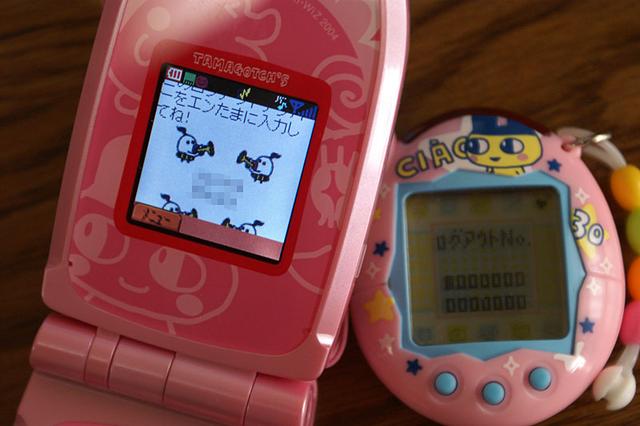 Google-translated:
"en Tama can go out to "travel" if the Tamagotchi, which raised some extent. En Enjoy the content of "Tamagotchi Town", one of the "papipo!" Web services, using occasionally displayed IDs and passwords. If you log out and enter the logout ID and password displayed on the "papipo!" Screen occasionally, the series of operations is completed."
https://trendy.nikkeibp.co.jp/article/col/20060607/117045/
Another excerpt about it:
"WILLCOM and BANDAI announced on joint March 16th that they will release the PHS terminal "Kids' mobile papipo!" For children in June (Photo 1). From March 18th, accept reservations through dedicated website and so on. Although the price is open, it is expected to be 14,800 yen for mail order through Bandai's website."
By the way, there was a third Tamagotchi-themed phone that was set for release outside of Japan, but was canceled for unknown reasons. I have no idea where I found the article (since it was a while ago), but to be honest, it looked like a generic flip phone with a Tamagotchi decal.
That's it for now. I hope you all enjoyed these little snippets. I've been trying to find more about these phones for a while now, and it's awesome getting some sort of info on them! Of course, there's also a ton of stuff out there like reviews and blog posts I didn't include for the sake of brevity, so happy sleuthing!