Here's a big shout-out to ayan300. Thanks so much for checking out my log!
March 9-13 (ish), 2012
Tamagotchi iD L
So, silly me. I managed to get all of the happy stamps for Furawatchi (Fuwafuwa Castella from Tama Bakery, the Kendama from the Retro Toys seeds, and the Flower Hat from Tama Mori) but the thing is, I had to take off her Henshinjo costume in order for her to put on the hat (maybe you can see where I'm going with this because it's happened before…with Uwasatchi
). Then I lost track of time and the next time I activate the screen, she's earning her final happy symbol and stored under the book icon wearing the hat instead of her Henshinjo costume. >.< Drat. I'm going to have to re-do her character yet again.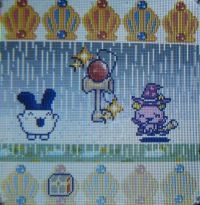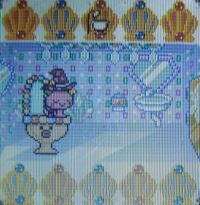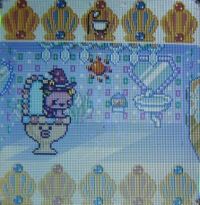 I rarely catch an adult character doing the wiggle dance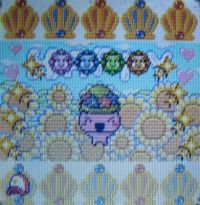 What was done, was done, so I took her to the matchmaker and she married Sunopotchi there.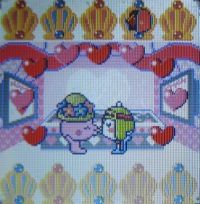 They had a baby boy, who I named Akio ("glorious hero"). He evolved into Furutsupantchi after the hour of care.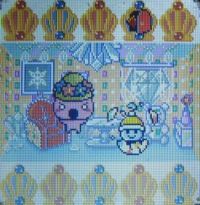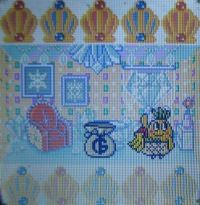 That covers what happened on the 9
th
and 10
th
. From this point on, my schedule became a lot more hectic and so I stopped logging and taking pictures. I also paused my iD L. I can remember what happened though, judging from the pictures I took after I unpaused it. On the 11
th
, Akio evolved into Happabouyatchi. He evolved into Bokutchi (such frightening eyes) on the 12
th
. I remembered pausing my iD L on the very early morning of the 13
th
because I had clinical that morning. I decided to resume running Tamagotchis again when my 15
th
Anniversary Tamagotchi iD L arrived.
TMGC+C
The next time I looked at my +C's screen after a while, I saw that Kei had gone back to Tamagotchi Planet. I was unsure as to whether I wanted to continue running my +C and that's pretty much where I've left off with it so far.
So I my Tamagotchis were inactive from around March 13
th
to March 29
th
, the day my 15
th
Anniversary iD L arrived in the mail. I took pictures of this new addition and then on March 31
st
, got my entire virtual pet family together for an updated collection photo and video. I resumed running my Tamagotchis on April 2
nd
. Stay tuned for my March 29
th
post, where I will finally be logging about my 15th Anniversary iD L! Told you it wouldn't be long before I'm more caught up.
Until next time!