Today, January 17, 2013, my log marked its
second anniversary
! Huge thanks to my readers out there! I don't like to self-promote that often but your feedback means a lot to me and so if you like my log, please feel free to
rate
it (located at the top left-hand corner) and/or
follow
it (located at the top right-hand corner). I also take requests via profile comment or PM, as well as constructive criticism, especially if you think my log deserves anything less than 5 stars. I strive for the best in what I do, and the same goes for my logging, so if it's anything less, I work to improve it.
So without much further ado, onward!
January 16, 2013
15th Anniversary iD L
Nothing much going on with Dazz today, other than getting her happy items, which include Katsu Curry from the Restaurant, Fruit Sandwich from Tama Bakery, and the Rainbow Parasol from Tama Depa.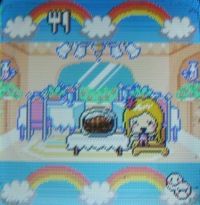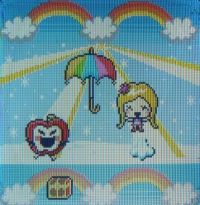 She'll be going to the matchmaker on January 17.
Osutchi and Mesutchi - Day 2
Aragorn and Arwen are still both MohiTamatchis. I was volunteering today (my last day there...but as a volunteer! Next time they see me, I will be working as an RN
) and running around doing errands so I didn't get the chance to respond to the discipline calls as much. There will be many other opportunities though, as Osu/Mesu pets continue to call for discipline even after the meter is full. In sum, not much happened with my Osu/Mesu pair today. If you're interested, check out what happens when you get them up to
99 grams
! I didn't much feel like putting Aragorn and Arwen through this at the moment so a link is all you'll get for now.
Tamagotchi P's
Started off the morning with a bath. It's a little different from the iD L. Look at that cute rubber ducky!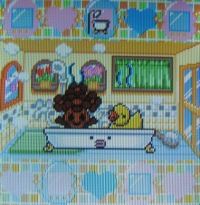 I have yet to really sit down and read all there is to know about the P's, and I'm looking forward to discovering a lot of things on my own as well. For example, I know that there are things that can happen when a Tamagotchi character steps outside. Indeed, when Puchihanatchi stepped outside today, a piece of paper floated down from the sky. I missed what happened the first time around, but after going outside repeatedly, it happened again.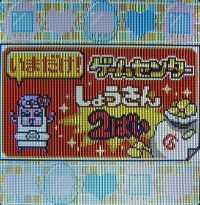 I was unsure as to what it meant, but after playing around with it for a little while longer, I discovered I had to press B when that picture popped up. Not sure what the prompt after that was asking but when I selected the top answer (I'm assuming it means "yes"), it took me to the Game Center, where I was able to choose a game to play, as usual. When I won the game, I received twice the amount of money I would have won had I played it without receiving that voucher. So, from this, I'm guessing that prompt was just asking me if I wanted to redeem the voucher at the Game Center, or something similar, and that the voucher was for a one-time, double-the-Gotchi-Points opportunity at the Game Center? Seems that way.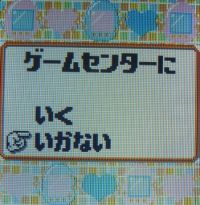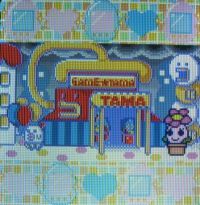 Puchihanatchi evolved into a teen today: meet Neotchi!
I can't wait to discover more about the P's. I got a shipping notification for my 2 other P's on this day and so they're on their way!
In other related news, I mentioned that I've been on a Tamagotchi-buying spree.
I just paid for several Tamagotchis that are coming in from Tokyo. I was able to save a lot on shipping since they're all from the same seller but had to opt for the most economical, which isn't always the quickest. So they'll be here sometime within the next month or so.
That's all for January 16. More updates soon! Thanks for reading!