February 10, 2014
Good to be back here. Yesterday's shift was probably one of the roughest shifts I have ever had and so it was really good to come home this morning, un-pause my Tamagotchis, and rest after a 14-hour shift. Granted, I didn't watch them too much because I was just too tired so I just let them be and took pictures here and there.
iD
I mentioned previously that I didn't have any pictures of Memetchi after she evolved but it turns out that I took some pictures on the 5th and just forgot about them.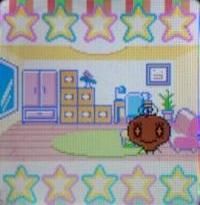 The look on her face as she's eating the built-in food is so silly. She is not having any of that. I've got to track down my IR phone so that I can transfer over some new items and games (because the built-in games don't really give the quick return and I honestly haven't had enough time to play the games to get more Gotchi Points and therefore can't yet afford to buy other food
). 
Nothing new going on with Memetchi today. She should earn her last Ta Mo To Mo stamp tomorrow and be able to go to the matchmaker. I will also work on her other stamps tomorrow. 
Devilgotch
Deviltchi caused more trouble today when I a ) tried to access his stats, b ) tried to feed him, and c ) was playing the game. Got a whole spectrum of mischief today.
That's what I get for letting his Devil Power creep up. It was all in good fun anyway. Later on, he asked for a handshake. 
I'm hoping he'll evolve tomorrow.
More updates to come.  Until we meet again!