April 30, 2011
Tamagotchi iD L
Kiyomi earned her last happy item this morning (again, please excuse her appearance; it happened before she had a chance to take a bath
). I now have Memetchi listed under the book icon for collecting all 4 happy signs for her character.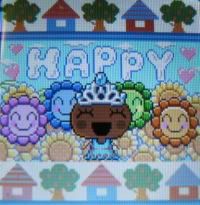 After sprucing herself up and wolfing down some breakfast, she was positively ecstatic to make her way to the matchmaker. They grow up so fast. :í) The matchmaker presented Kiyomi with a handful of charming suitors. Maisutatchi caught her eye. He definitely looked dressed for the occasion! They went out on a nice date, got married, and had a baby girl, who I named Aya (ďcolorfulĒ).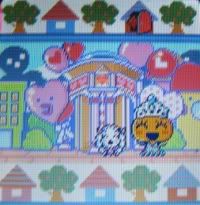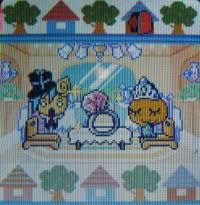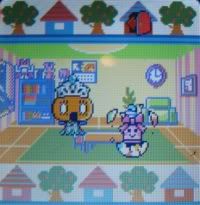 Aya evolved into this cute toddler, Rolutchi. It was a pretty uneventful day for her after that.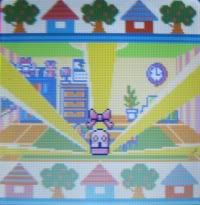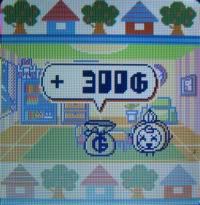 Tamagotchi iD
Nothing much happening with Minoru today, as he just evolved into an adult yesterday. All thatís left to do is earn the last of the Ta Ma To Mo letters in a couple of days.
TMGC+C
Takeo evolved into Mametchi today (sorry that the picture is fuzzy...I barely had time to grab my camera and snap the photo!). It was a quiet day for him after that.
In other news, I recently purchased a Nano Baby from a private seller for $15 total and I received the package today. She threw in a Nano Puppy free of charge, which is awesome because I love the whole Nano line in general (the original ones, not the talking ones).
Nanos bring back great memories because besides the Kimiko/Baby Byte and Giga Pet, Nanos are among the first virtual pets I played with (yes, even before I knew about Tamagotchis, which wasn't until 1999). I am very pleased with this purchase and they both work fantastically. There aren't many decently-priced ones on Ebay. I hope I get to start mine up sometime in the near future.
Thatís it for now! I do already have all my updates from May 1-10 typed out, so I'll be posting them in increments over the weekend. Thanks so much for reading!